Team Member: Cheng Shao Meng Merlin, Daniel Choo
Content:
---
Website Link: https://sites.google.com/site/theduriannews/home
Artist's Statement: The Durian Puff
The Durian Puff is an mockumentary installation utilizing the tools of the World Wide Web, videography and performance art with online space as its primary medium. This installation mimics "The Onion" as a satire news website, and employs the use of contemporary journalism, mockumentary, and comedy-satire shows such as "The Noose" (2007-present).
The experimental and unorthodox narrative explores the idea of a near-future dystopian society of our consumerist culture where money grows on tree and questioning this in context to the massive deforestation problem we are facing right  now.  This installation is the artists' commentary on the relationship of the struggle between nature and the economic-centric pursuit of a rising population, and the strain it puts on Earth's natural resources.
---
Write-up – Process: Pre-Production
Our idea originated from BBC April's Fool hoax from 1957 where BBC reported that spaghetti grew on trees. That gave us an idea, since we are working on the theme of capitalism and deforestation, why not have money grow on trees instead? Our original idea was actually to have a physical installation of a mock-interview of an economist saying why the economy is not doing well due to the low output of money from the Money Tree.
Team Member: Merlin, Daniel
Theme: Commercialization/Capitalism
Title: Money Grows on Trees
Genre: Mockumetry, Comedy

For our final assignment, we will be working on a video installation. The idea came from shopping mall pillars with advertisement on it. Instead of static images, it would be a video of interview of an economist answering why our economic is not doing well.

An example of the dialogue is: "The reason for the low harvest of money this year is due to deforestation and global warming."

Capitalism and pro-consumerism is putting heavy strain on Earth's resources – overpopulation and overusage.

From Assignment 3 Proposal – https://oss.adm.ntu.edu.sg/a150018/2016/04/03/4d-ii-assignment-3-proposal/
After the first consultation, we agreed with Ruyi that it is best to change the form of communication to best deliver our message. Since we are doing a mock-interview, in continuing our trend of using and developing the mockumentary genre, we decided to work on a news website with some of the articles having short video clips like those in ChannelNewsAsia. We knew that Money Tree as a concept has been around for awhile but we like to give our spin on it using a dystopian near-future of Singapore (i.e. what would happen to Singapore if we keep on following this consumerist/materialistic lifestyle.
It was later in the development that we decided to incorporate performance art as part of the narrative and using it as our presentation as well.
Write-up – Process: Production
Due to the installation not limited to just one medium, we had to plan and create the contents at the same time. The first thing we did was to plan out roughly what articles to write about. We did this by writing the title of each of the articles (we originally only had 9 articles compared to the now-12) and a short description of each articles. We then split the work in half where each of us would write half a set of articles under our character's persona – Heng You Chian and Sum Tin Wong. The naming of the characters is influenced by The Noose's news anchors naming style.
All the files were kept in Google Drive for easy sharing and editing. While Daniel worked on making the base website, I worked on the articles and planning of the filming such as the interviewees, location, and costume.
While doing so, we also tried to developed the reporters as more than just a neutral blank state but instead an activist of sort favoring environmentalism. Through writing the articles we also develop our secondary characters – the interviewees with the most memorable being Hipster Singer Soya Soh. To reduce time and creating a link between previous works, we also included Merlin from 4D I Final Project as a crossover guest character. Because we already developed that character, we know how he would act, react and mannerism and it help save us time in creating a new character from ground-up.
Write-up – Process: Post-Production
Some of the articles were written and rewritten and a few new articles were added as we solidify the overarching plot. In a sense it is sort of writing for a TV series, where each episode is it's own story while there is a much bigger story in the background. But instead of screenplay, it is written as a news article. To us, this feels experimental and new but anything is worth the risk to tell a good story. Borrowing from what we learn in Ben's Narrative Writing class, we learned that news article are told as "story" as well, so our job is to look at real news article and emulate the way they write yet also mindful that we are writing as characters in our story so naturally the articles are bias towards environmentalism.
It was fun writing and editing the articles, because the longer I write, the better I seem to know and understand them. It's like getting to know someone more and more. Creating the About The Writers page really helps a lot as in this way we are forced to give a background story to the reporters and also why they talk and act a certain way. The acting part was also fun as that is when we are in our characters' shoes and envisioning how they are. Also in writing the articles (12 articles + About Us/Writers + Money Tree Care + Join Us Now + Homepage), we even created a backstory of how Money Tree came to be used in parallel to real world adoption of paper money.
While concurrently writing the articles, I also edited all of our 6 short videos. We divided the clips to a few categories – main news interview, insert shots and stock videos. Because of some technical issue while filming, we were unable to use the voice clips from the zoom recorder and had to rely on the main camera's audio. Due to this I have added subtitle in hopes of making it easier for people to know what we were saying since dialogue is very important to our video. It takes awhile longer to edit the video but I believe it is worth it. Also learning from previous 4D lessons was de-noising the surrounding sound so you can actually hear us talk.
In terms of music, the main video uses a military style music to create the revolution feel while the other 3 interview clips uses classic music. The crossover video with Merlin uses the same music used in 4D I Assignment 4 video while the Hipster Singer Soya Soh uses a mix of Buddhist song and Lady Gaga's Pokerface.
To the mock news website feels more real, I created fake ads on it too. Most of the ad banner links to the Join Us Now page on the website while other 2 were created as "Sponsor Ad" on their respective articles. The ads were added to create more depth and make the website feel more real while at the same time using graphics to communicate the plot as well. To tie in the live performance, we created a poster for the presentation-performance as well. The last article of the news site also link up to the performance in terms of plot where the reporters are "currently in contact with an activist student in Nanyang Technological University while we formulate our next move."
Lastly was the touch-up of the websites, uploading of the videos and planning our live performance.
For the live performance, we worked on combining the narrative of our story and project presentation. As we are aware the presentation have a time limit, we decided to only showcase part of the project as it is not meant to be just experienced live. Experiencing it alone on the web (much like how we read news article online) is also required to get a fuller picture of this narrative. Like a TV series, the narrative is not meant to be easily understood in one session and even the nature of writings, we were able to include a lot of sub-stories and background stories for those who are interested to know more about the world we have crafted.
As usual, planning and rehearsing is important in getting the live performance right. But unlike filming where you can afford to make mistakes, in live performance, we have to react on the spot and interact with the audiences.
(By the way the shirt I am wearing says "FOREST CAMPAIGN".)
---
Write-up – Research
Research plays a big part in the development of this installation. First was the writing part where we mimic how ChannelNewsAsia formats their article (Country/Type of news, Headline, Subhead, Lead, etc) and looking briefly how do journalists write a story. We also drop by The Onion (a satire news website) to take a look as well.
While searching through images for Money Tree, we learned that that was a "real" Money Tree in London as part of their installation. This gave me some ideas when writing an article on planting and caring for your own Money Tree. In fact, one of the images from the Money Tree Care was from this installation.
Another aspect was finding out about the deforestation and environmental issues in Singapore and globally such as the saga between the new MRT line and MacRitchie Reservoir Park. Other issue includes global deforestation, renewable resources, how celebrities can impact the way we act and even a bit on technology such as wireless payment (DogeCoin). It is as if we are really reporters doing research before we begin writing our articles, but of course we are able to take some liberty due to this being a fiction but we try to mirror this story to real-life as possible to create this link.
One of the main reference that we used for the filming technique is The Noose. I uses their technique of having a consistent reporter character while the interviewees are all acted by the same group of actors. We had to come up with costumes and mannerism for those characters.
Nachos the Crescent and Pioneer Hall resident hall cat once again appear in my assignment. Cats are a recurring motif in my work, like in 4D I Assignment 4 where the character Merlin has a cat as a reflection of his eccentric nature. Cats also appear in my other work, such as 2D and Art History modules. In this installation, Nachos appeared twice, once in Hipster Singer Soya Soh and another in Merlin crossover interview. In this way, much like how we dress up as different persona despite being the same actor, the same can be said about Nachos as well.
I thought that cat has this natural ability to make everything funny and comical and that is one reason why I want to in-cooperate cats into my work.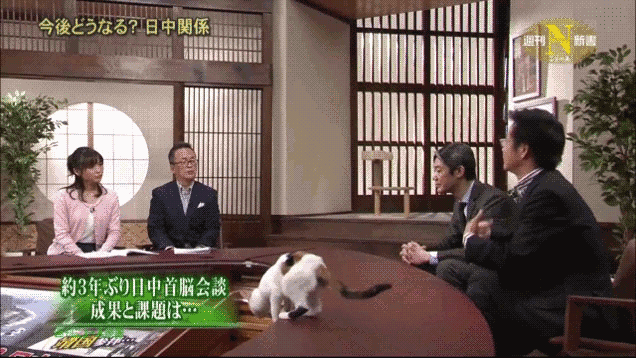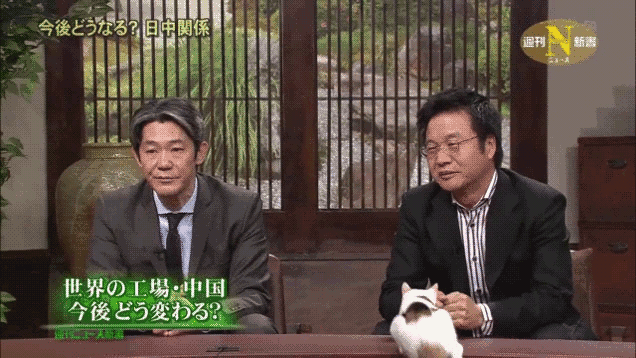 The crossover interview scene with Merlin was a direct reference from the Shuukan News Shinsho where the current affair news have a cat roaming around. It was a fact that Japan love cats and idols and thus the news station merges the two. I will just quote Kotaku on why this is such a good idea:
The cat just does cat things. Sometimes Maago wanders off. Other times, the cat can be seen sleeping the desk. Or licking the desk.

Guest tend to leave it alone to do his cat things, even if Maago is meowing or sticking his face in their tea.

Other times, you don't see the cat for extended segments.

Then suddenly, he appears when a monitor shows one of the Fukushima reactors. If you get bored with the show, you can always look for the cat.

—–

Shuukan News Shinsho deals with serious issues. This episode, for example, touched on relations between Japan and China. Having a cat, I think, takes the edge off such weighty issues, and perhaps gets guests to relax a bit.
You can read more at Kotaku here (http://kotaku.com/cats-make-serious-japanese-news-better-1639424829) and here (http://kotaku.com/when-youre-a-cat-serious-television-can-be-tricky-1660020808).
We actually filmed a few shots of the interview scene and during editing I decided to use the one where Nachos keeps on licking himself as it makes it more interesting than if he just sit down there doing nothing. It was a deliberate choice on our part to have the cat to distract the viewers as since this was a comedy and interview segment is generally boring so the audience can look at the cat while listening to the interview.
As for the live performance, we took reference from interactive performance artists from Ruyi and also Ben from Narrative Writing – Brian Lobel (http://www.blobelwarming.com/purge/) and Miranda July (https://vimeo.com/149136517). At first we wanted our performance to be just a simple presentation expect being in character but decided to add in a bit of interaction with the audiences at the front part.
---
Reflection
This was a more challenging assignment than anything I have done before, given its experimental narrative format using writing, video and performance art means more work for us. We tackle this problem by chucking all the information through planning so it is easier to work on them. The hardest part was probably the planning part as the initial stage was pretty messy as we tried out different ways to tell the story and even when we decided on the satire news format, we have to think of the overall plot and how the news article fit into them. And even then we have to write about the 2 lead characters and all the supporting characters.
The editing was not easy as the adding of subtitle added to the time and there were many clips to edit. I wanted to have more clips but have to cut short due to time constraint so picking the most important article to include with video clips became more important.
To be honest I have never acted so many roles in a single project before. Fitting into so many shoes is rather tough. The hardest part is probably trying to record in public, as you have to get used to people looking at you all dressed up funny and talking in such a weird way. The funniest was probably when we were doing our fake protest where we have people staring at us. The live performance was also tough as we have to rehearse and still forget certain parts and we have to act on the spot if something were to go wrong.
If there is one thing we could improve or worked on again is probably on making the acting more distinct and sharper and also having better selection of clothes and having a make-up artist help out. We will also probably flash out the 2 lead characters more as well and make them more active than just passively reporting on their surroundings. I would also probably shoot more insert shots myself instead of relying so much on stock footage instead.
Overall, it was a very pleasant experience for us. I understand that this format of storytelling is not everyone's cup of tea but it was a good way for us to tie up the 4D module as a whole as we bring together all the skills in 4D that we learned. It was also a good chance for us to try out new way of storytelling and using unconventional ways to get a message across. I hope to use all these skills I learn for future projects.
(P.S. Acting is actually pretty fun, although it can be pretty crazy as well)