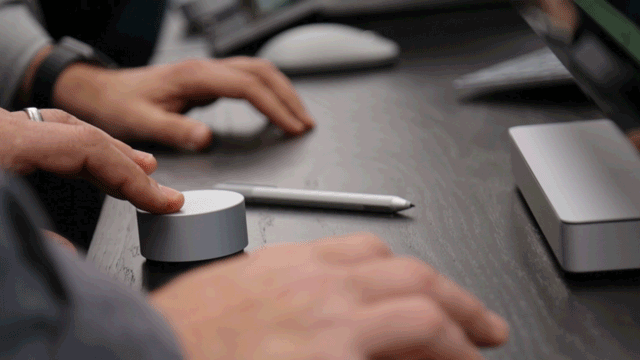 The Surface Dial is an additional tool that works primarily with the Microsoft Surface Studio PC.
The dial is a minimalist knob that can turn freely to provide the user with a myriad of functionality, from tilting the canvas, switching between tools, and even changing colours on the fly; it can even adjust the volume (wow!). The dial can be clicked like a big button and also has haptic feedback.
Placing the Surface Dial on the MS Surface PC brings up a variety of different utility around the dial itself. Couple with touchscreen capabilities and the pen for use on the screen of the Surface PC itself provides users with a very smooth and innate ability to bring their concepts and designs to the digital platform without feeling like technical know-how of software being in the way.
The Surface Dials shows just how intuitive alternate modes of control can be, as opposed to shortcuts or functions stuck behind layers of drop-down menus. It also brings to mind how the current tools of mouse and keyboard can limiting user experience and in turn possibly shape software controls to be cumbersome than need be. It also doesn't hurt that the graphics and animation around the dial are stunning and pleasing to the eye.
The Surface Dial however, isn't the first of it's kind. Previously there was the Griffin PowerMate, from as early as 2002. On Kickstarter there's even a 'Rev-O-mate' from Japan priced at USD$75 as opposed to the Surface Dial's USD$99, not including the price for the Surface PC setup which goes into the thousands (but it can still be used with regular computers without the on-screen functionality).
The PowerMate and Rev-O-mate might not be the stunner in conjunction with the Surface PC, but they hold their own for artists looking for cheaper alternatives for more intuitive control for color-correction, audio engineering and digital painting. The Surface Pro however, takes things a step further with it's abilities and additional visual information and ease of use when placed upon the Surface PC itself, making something that's actually been around for awhile, break new ground.