DV3003 Spatial Design
AY19/20 Semester 1
In collaboration with Jiaman (https://oss.adm.ntu.edu.sg/a160043) 
At the beginning of this assignment, we wanted to work on it as a continuation of our first wayfinding submission – which was to position Labrador Park as a convenient location for a variety of sensory experiences. Despite not being a very popular recreation space, Labrador has a rich natural and cultural heritage, containing both a nature reserve and the remnants of Fort Pasir Panjang, one of Singapore's colonial wartime defences. We would also find out later on that Labrador is home to Singapore's last stretch of pristine, untouched coastline along its Southern coast.
Target audience
Based on this, we decided on young families and their children as our target audience; Labrador Park could be a place for them to learn about a wide variety of topics, such as heritage and nature. Other users would consist of anglers using the jetty, as well as residents engaging in recreational activities and the working population from nearby commercial buildings.
Initial strategies
We decided to work on this project under two main strategies
To pitch Labrador Park as a space to slow down and watch as nature changes

That Labrador Park has untapped potential as an educational park – it is not just a park, but also a home to nature and others
Labrador Park is a space wherein many natural features are available for visitors to experience nature in a multisensory way – to touch, smell, see and hear. 
A space to slow down and watch as nature changes
In this project, we would like to encourage visitors to slow down and observe the changes and transformational forces of nature; these changes are slow and as transitory visitors, we often fail to recognise them.
Thus, there is potential to create opportunities for visitors to literally slow down, and observe the world around them. 
For this concept, we explored and derived inspiration from creative projects that embodied this concept of change and seasonality, as well as the need to slow down and observe the world around us.
Inspiration 1: Great Big Story "Recording the sounds of extinction" 
We felt that this project reminded us that humans inherently need contact with the natural world as this helps with their physical and emotional wellbeing. At the same time, nonphysical elements of a space are still important in defining its identity and what it does. 
Inspiration 2: 林子大了by YooYao
In this project, mechanical woodpeckers were built and programmed, thus creating a pattern of sounds in a forested space. We considered that this was an example of how sound could open up our awareness of the space and asked ourselves, could this be a way to get people to start noticing and appreciating the little details in our environment? Encouraging a sense of wonder and discovery could possibly provide intangible benefits in a fast paced environment such as Singapore's.
Inspiration 3:  Sea Organ in Croatia
Other examples we looked at included the Zadar Sea Organ. Built as a stepped seawall and incorporating acoustic functions that resonated with the waves, it invites people to get close to the water and observe. People are encouraged to sit down and enjoy the acoustic effects as time passes; natural forces were harnessed and converted into a unique experience.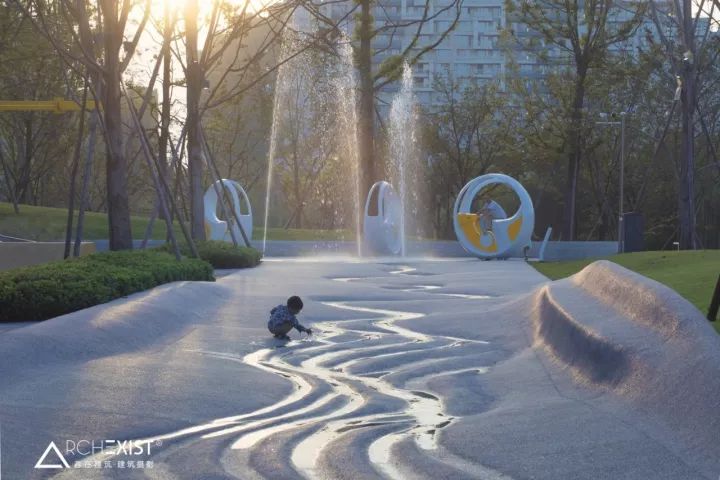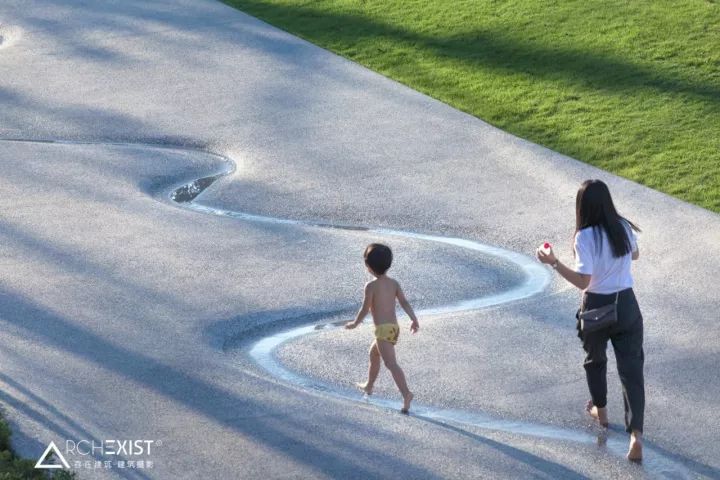 We also studied a park project from China, where a physical sand and water feature embodied the idea of time passing as well. In that project, water is allowed to flow serendipitously through the sand feature. Nature and man both are able to sculpt the flow of water; this would've created a poetic/therapeutic experience, that reminded us of how interactivity could encourage people to slow down and observe how these phenomena change over time. 
Educational park
Revisiting our first assignment, we also wanted to retain this idea of learning and education in our placemaking phase as well and this was something we considered in the development for this project.
Initial design explorations
We explored the idea of a space where people could congregate in small communal spaces that surrounded a central feature, which could embody the idea of slowing down and observing the surroundings. 
One concept used the sand pit feature and modifying the terrain to provide spaces for park users.
Design proposal – Tidal Sanctuary
We decided to simplify our proposal for a more elegant solution, and focus on providing spaces on which users could build their own experience, yet tie in the idea of slowing down and observing changes in the environment.
By simplifying our proposal it also allowed us to focus and identify our goals for this project. 
Our main goals:
1. The idea of slowing down and observing the surroundings. 
To bring the visitors closer to nature and not hinder the sensory experience nature provides. 3.To make the existing sights, sounds and textures of nature the main attraction in our space.

(need edit)
Location and siting
In our proposal, we plan to utilise the Rocky Shore at Labrador Park as our placemaking site. Through our research, we found that Rocky Shore plays an important ecological role as it is the last 300m stretch of pristine coastline along Singapore's southern coast. As a rocky tidal shore, it is also home to corals, crustaceans and other tidal marine life. 
During our site visit, we felt that the existing structures, fences and barriers were hindering the view of the coast and it creates a visual and physical barrier between the visitors and nature, making it difficult for visitors to closely appreciate the importance of the Rocky Shore.
What we have learned is that the Rocky Shore used to be open to public visitors, but has since been fenced up to protect visitors from injury and to prevent damage to the wildlife; the stretch of Labrador Jetty closer to the shore has regulatory signage forbidding anglers from fishing in the waters, indicating the unique nature of the Rocky Shore. Furthermore, there isn't much done to the coastal area, it is now just a green fence which give the space a very harsh and oppressive environment.
Development
We wanted to expose visitors to the importance of the rocky shore, by bringing the coastline closer to visitors; inspiration was taken from stepped seawalls, such as the example of the Zadar Sea Organ, and even the stepped walls of the Singapore River. Thus visitors, would be able to get closer to the sea to view the cyclical changes of the tides and how the Rocky Shore changes over time. 
Some exploratory illustrations were done to explore the various possible configurations of the space.
By bringing visitors closer to the shore, there was a risk of damage to the Rocky Shore, but we explored various ways to implement a softened barrier. We used sketches and 3D modelling to visualise this, but realised that these barriers were still quite rigid. After consultations, we decided on visual hints and standoff distances to create a safety barrier between the Tidal Sanctuary and the shore; this was implemented with a wide pebble strip that differs from the concrete we plan to use in the rest of the space.
To embody the undulating waves, we designed the steps of the space to vary and curve slightly, which creates spaces of various dimensions. This could cater to different group sizes and a wider range of activities in the Tidal Sanctuary. Organic undulating surfaces were also included to provide spaces for play and encourage exploration of the space. These could be used for play by children, while adult users could potentially use these as lounging and resting spaces.
Similar to the current scenario, we would propose that physical access to the Rocky Shore is allowed only for guided tours with park rangers. However, the broadened space would enable people to get closer to the waters without having to enter the shore.
Night experience
Labrador Park currently does not have much in terms of programming and activities for night time visitors, other than a cluster of BBQ pits for park users. Additionally, lighting is mostly functional, and doesn't enhance the visitor's experience. We wanted to extend the usable time of the Tidal Sanctuary into the night, by designing a lighting programme for the space.
Lights are proposed to be embedded into the stepped space and as individual spots in the curved areas. Strips of lights mimic the movement of the waves, as they travel from one end of the tidal Sanctuary to the other. Another group of lights are scattered around the Tidal Sanctuary and glow as if there were stars reflected in the waves. These lights would then be programmed with a breathing, flowing pattern, embodying the undulating waves and wind that surrounds Labrador Park, providing an alternative experience for visitors. 
Safety lights will be placed near the water's edge, to remind visitors to stay away for their safety.
Summary
In summary, the Tidal Sanctuary is a 
A place for visitors to slow down and enjoy the sensory experience. (We have made the existing sights, sounds and textures the main highlights of the space)

Step closer to the coast/nature of what Labrador Park can provide (View is not obstructed, people can sit nearer to the coast, encourages them to explore the coastal ground when the timing is right)

Softens the coast allowing a more gentle and inviting experience for the visitor.

Becomes a resting space for intimate conversations (The narrow curves for people to sit)

Becomes an activity space with a good view to enjoy (The wider curves for picnics, yoga etc) 

An attraction at night with delightful/magical light shows. 
Final visualisations