MICRO PROJECT 3
TOGETHER SPLIT
A 1 min collaborative choreographed performance that involved split-screen video chat features on social media.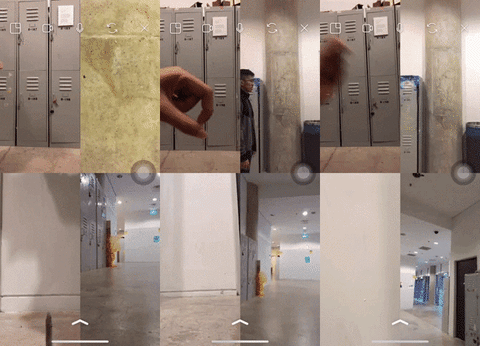 Together Split, a collaborative work of 5 individuals to create a choreographed performance with a project execution of 1hour to set up, plan and perform. It was performed at different locations of the faculty, just near enough to hear each others' yelling of instructions. The objective was to implement different types of visual communication methods to create a smooth sequence of connected actions ( the three sequence as above ). The outcome was tedious, which involves multiple takes to achieve a smooth transition.
The main constraint was time. There was only an hour to choreograph all the sequences which included the planning, setup, and execution of the performances. We encountered multiple obstacles along the project, many of which are technical issues such as choppy video quality, connection issues, coordination of movements due to poor synchronisation of videos. Working with what we had, we managed to achieve what we planned after numerous retakes. It was a good exposure through the use of split-screen live chat to achieve a collective performance sequence.
Evaluation of Micro-Projects
Which project did you feel you had the most creative control? Why?
Micro-Project 2, Crowd-Sourced Art has the most creative control to me because as the creator, i set the variables to limit the participants' choice to influence the outcome of the crowd-sourced art. Halfway through the execution, we alter a variable to encourage more inputs from the public which went the way we wanted.
Which project had the most unpredictable outcome? Why?
Micro-Project 3, Together split has the most unpredictable outcome due to expectations and the outcomes. In our plannings, we wanted to make each transformation smooth from quadrant to quadrant; the exit and entrance of each individual. Many are eventually not as syncronised as hoped but it was acceptable given the context of the project.
Which project best illustrates the concepts of DIWO & Open–Source? Why?
Micro-Project 1, Creating The Third Space best illustrates the concepts of DIWO & Open-Source. It is not the best by itself in the definition of Open-Source but its the best out of the three. Instagram is used in this context as the platform where we contribute to the #1010adm ecosystem. We as contributors help to create a virtual space that creates a pattern that builds an identity to the tagline, understandable to the uninformed person.