Philippe Apeloig is a French graphic designer and typographer well-known for his expressive and experimental usage of typography, with inspirations his love of paintings, literature and the performing arts. In the 1980s, Philippe Apeloig had an internship with April Greiman in Los Angeles, who was one of the first few designers to embrace the usage of computers in design, and the experience encouraged him to embrace the emerging technologies in his designs.
Although posters are two-dimensional, elements and typography in his designs tends to look three-dimensional and conveys a sense of movement, interactions, and emotions.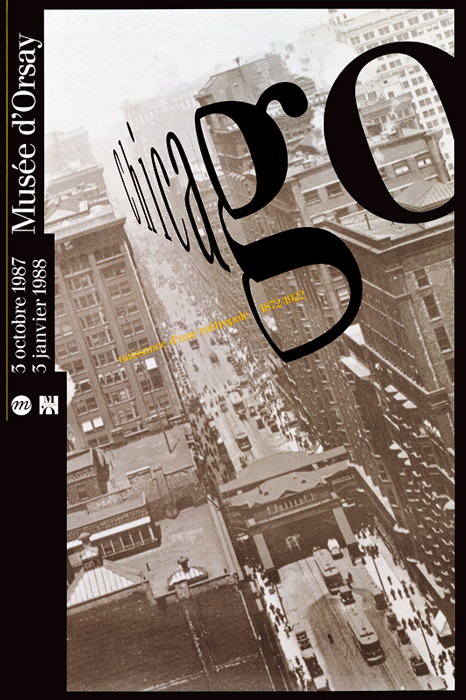 Chicago. Naissance d'une Metropole, 1987.
One of his most well-known works, the 1987 Chicago, Naissance d'une Métropole poster, Philippe Apeloig used CAD softwares which was used exclusively for technical purposes, to distort his letterforms to create the illusion of three-dimensional space. The photograph of the city was taken at a dramatic angle, and the way he skewed his type enhanced the photo to create a sense of speed and vertigo.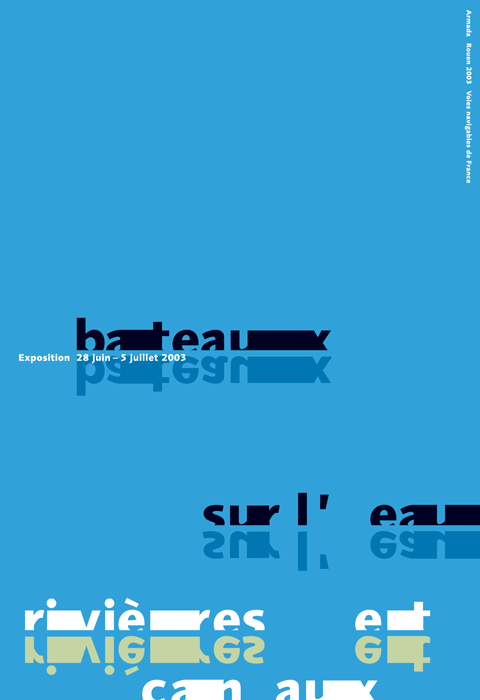 Bateaux sur l'eau, 2003.
In many of his designs, he allows letters and typography to function as an autonomous image. One of the posters which I felt to be very interesting was the Bateaux sur l'eau poster for the French navigable waterways, where the letters were treated to represent boats, the solid blue background and the reflected letterforms suggested that it was water and reflections on the water. I like the subtlety and how utterly simple it was, yet the poster was able to convey the message rather clearly without the usage of other images / elements.
Vivo In Typo, 2008.
Vivo in Typo was a poster to promote an exhibition of his own poster designs at Espace Topographie de l'art in Paris. He produced pages of computer-generated punctuation – such as periods, hyphens, and backslashes, and manipulated them into individual text forms. He varied the spacing between the punctuation, used a limited colour palette, and layered them in different scales to enable the several layers of the title "Vivo in Typo" to emerge as if they were woven together in a tapestry, and at the same time, I felt that they resembled like digital glitches as well.
References
https://www.theatlantic.com/entertainment/archive/2014/04/a-new-legend-of-french-design/360098/
https://www.stedelijk.nl/en/news/philippe-apeloig-using-type
http://www.designculture.it/interview/philippe-apeloig.html
http://apeloig.com/
https://www.wallpaper.com/design/dutch-design-week-2019-highlights