Okay, so I am finally done with this assignment yeah! Honestly speaking, after actually doing zine I realised I am quite bad with design elements. The eye to see how designs work together, how the words and image can compliment one another. There is honestly no excuses, I probably should have tried harder but I guess I should really learn to manage everything properly.
---
I was really questioning myself if I would want to do a photography / illustration zine. But I have no confidence in my photo taking skills, so I guess I went ahead with starting on illustrations. The first thing that I actually thought of was the cover of my zine. At first I had at the idea of having this perspective illusion when the pages get folded into half.
However, the perspective only work well from one angle, which isn't really what I wanted. But I still wanted the thought of like having a perspective feeling for the cover, it was then I came up with this.
After seeing this again for 2 weeks, the orange looks actually looks jarring— whoops
I was asked to change because of one the terrible colour, I see it now and also apparently mimi mentioned that the seniors once did a survey before. It was on the colour that people from the young adult age range most dislike and it turns out to be orange. Honestly, I am very curious to why "we" dislike orange. My initial thoughts of having it orange was that it was close to the colour gold. I thought was using yellow but I am afraid that it was just look too light.
Why did not I think about inverting the colours? I have no idea either. Having inverted colour scheme somehow brings our attention away from the details too. There honestly is just so much wrong with this image but I have no idea why I did not see it the first time.
So I inverted it. The first colour that came to me was blue. I wanted black but I felt that it was too much of a in your face kind of thing. I guess I went to the following darker shade. I was trying to find a shade that would fit blue when I came across this zine which looked great with the combination. I thought to myself, "Oh! Lets use this colour scheme. Why not right?"
Wrong.
So the question came, "Why did you use this colour? They should have a meaning too." Isn't there anything that I can do right. Even though I have all my things planned but I felt that that was not me. I am more of a spontaneous person. So the deadline came and I was stressing out. I still have not figured a lot of the things out. When searching for examples during the consult, mimi suggested that I could maybe look into children book illustrations and there was a book called the "little big books".
Time to dig! I went to adm library to hunt for the book and there the holy book.
There was a few that really stood out to me, but I feel like I shouldn't try to copy any style since this is a zine? I should probably do it in my style? Let me just list them out below, some of which I took ideas from for my final.
Olive Jeffers
Elisa Gehin
Blanca Gomez
Chris Haughton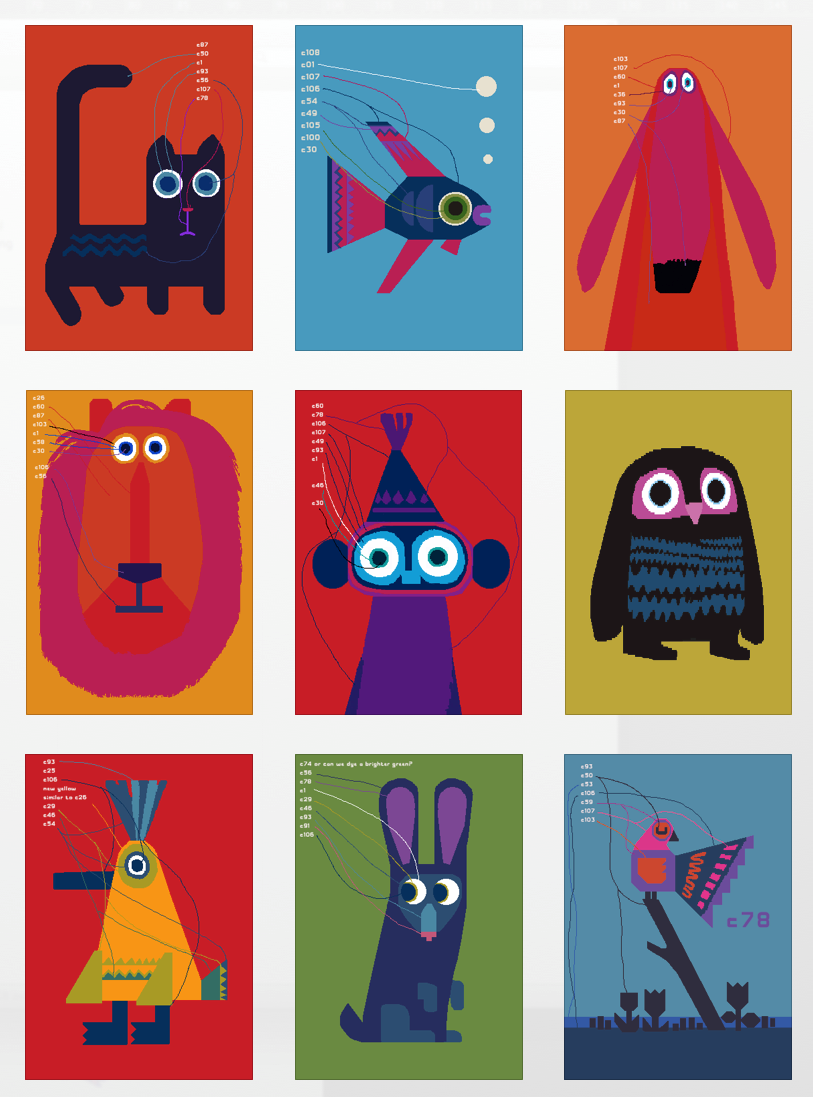 ---
Reflection:
After everything, I guess it comes down to my final. I wanted to put in like my own impression or like fun facts about that particular place of worship. I really learn a lot of new things through this zine assignment. It was not only about learning a new software but also the many different types of way one can stitch up their book or make it have a different feeling with a different stitch. Zine is just one of the cheaper alternative to get ones idea across without having to worry too much I guess? The paper, the mood, the typography all comes together to set the mood.
Printing colours also served as a difficulty for me. Sometimes the colours on my screen seemed to be off from the colours they have printed out. It works for some occasion but for this zine, somehow it has turned my whole zine more yellowish. I guess I need to start having test printing as a habit to tell if the colours are off. Though through this assignment I also learn a lot more about Paya Lebar and the interesting worship places all around the area. This was one crazy ride but all is well.
---
Final