This project is inspired by the idea of surrealism being put into my representation of nursery rhymes. I've decided to do each line based off different nursery rhymes to give more variety to the work instead of telling a story. I've also chosen the lines to be less of an action but more of a statement because it gives me more room and ways to make it as surreal as it can be with that particular line.
---
The Final Pieces
1) Three men in a tub

2) The cat and the fiddle

3) Jack and Jill went up the hill

4) I'm a little teapot, short and stout 
---
Artist References
---
1) Rene Magritte
René Magritte was a Belgian surrealist artist best known for his witty and thought-provoking images and his use of simple graphics and everyday imagery.
2) Salvador Dali
Dalí was a skilled draftsman, best known for the striking and bizarre images in his surrealist work. His painterly skills are often attributed to the influence of Renaissance masters. His best-known work, The Persistence of Memory, was completed in August 1931. Dalí's expansive artistic repertoire included film, sculpture, and photography, in collaboration with a range of artists in a variety of media.
3) Jacek Yerka
Jacek Yerka (born. Jacek Kowalski in 1952) is a Polish surrealist painter from Toruń. Yerka's work has been exhibited in Poland, Germany, Monaco, France, and the United States, and may be found in the museums of Poland.
4) Vladimir Kush
Vladimir Kush (born 1965) is a Russian born surrealist painter and sculptor. He studied at the Surikov Moscow Art Institute, and after several years working as an artist in Moscow, his native city, he emigrated to the United States, eventually establishing his own gallery on the island of Maui in Hawaii. His oil paintings are also sold as giclée prints which contributed to his popularity and led to the establishment of further galleries in Laguna Beach, California and Las Vegas, Nevada. In 2011 Kush won the First Prize in Painting at the Artistes du Monde international exhibition in Cannes.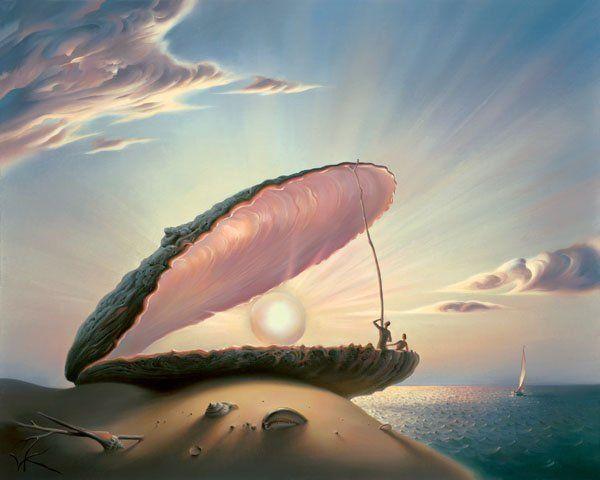 These artists have inspired me to create a sense of illusion through everyday objects and making it into something that has a totally different meaning. Each artists has his own style and way of manipulating these images to make it realistic.
---
Development
---
1) Three men in a tub
2) The cat and the fiddle
3) Jack and Jill went up the hill
4) I'm a little teapot, short and stout