It appears that there is a proper name for cards advertising prostitutes and in the UK, the term would be tart cards. (Before that I was just googling "photo cards" "name cards"…amateur pfft wished I had researched a bit more into this hours ago) Tart cards were often found in London's telephone booths in the past and now with the internet and they are less used and instead regarded as a kind of accidental art with a cult following. While reading the article on tart cards in Tel Aviv, I came across this tart card design competition held in London in 2009. This is really a great reference point on how to incorporate typography and suggestiveness into the tart cards I will be creating for this project. However, I will need to work on how to add an additional meaning to the tart cards beyond the suggestiveness to construct a more wholesome narrative going beyond their sexual profession. I will most likely be going for something similar to James Concannon's image + text style and Craig Atkinson's cut-and-paste spontaneous stye so the final product is not pure clean typography but a combination of messy collage and typography.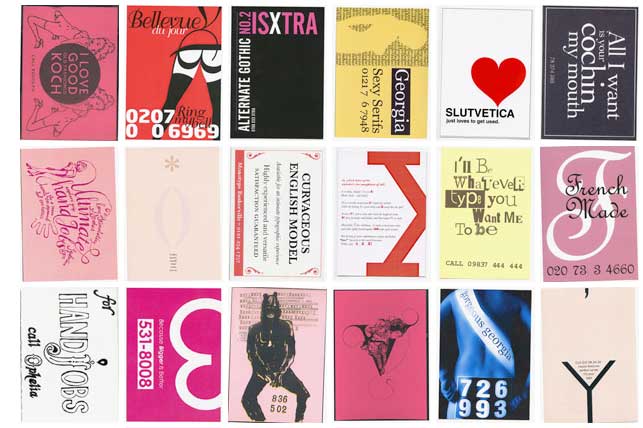 A tart card competition at the St. Bride Library in London in 2009. They explain: We would like you to design a tart card either for a typeface or a letter of the alphabet. If you are unfamiliar with these things, tart cards are the means by which London prostitutes advertise their services. Step in to any Central London call box and you can contemplate up to eighty cards inviting you to be tied, teased, spanked or massaged either in luxury apartments, fully-equipped chambers or the privacy of your own hotel room. So pervasive are these things, and so curious is their typography, images and copy writing they are now regarded as bona fide items of accidental art and have something of a cult following. Once on the periphery of design, the cards have influenced the work of many mainstream artists including Royal Academician Tom Philips and Sex Pistols designers, Ray and Nils Stevenson. Perhaps they can inspire you too?  (Retrieved from http://luc.devroye.org/fonts-50682.html on 1 Februrary 2016)
Old school tart cards have also been linked to the punk aesthetic which just makes me more excited to work on this project.
& it would be great if I could get my hands on this book…