ABOUT VAROOM
What do you find inspiring?
What's inspiring is that we get to see a full range of expressions through illustrations by illustrators across the globe, across a spectrum of subjects.
What type of information is in the magazine?
Varoom is the globally leading illustration magazine featuring a unique combination of industry insight and critical analysis of the field of illustration.
Explained well by Varoom 36 Rhythm, "Varoom showcases some of the most striking image-making from the crop of 2017 art school graduates, guided by the AOI's global network of professional bodies and educational institutions. The images are a sample of outstanding work from Kristiana to Kingston to South Korea – from children's stories to social observation to fashion and politics, there are new rhythms emerging. Follow these young image-makers as they take the pulse of changing time."
Who is the target audience?
Each Varoom magazine caters to a different target audience with its specific theme/topic. The target audience of each magazine would hence be anyone who can find a connection between themselves and the topic, especially if they appreciate the expression through art and illustration.
(MORE THAN) THREE ARTISTS (FROM VAROOM)
i. Victo Ngai, of course (in Fantasy)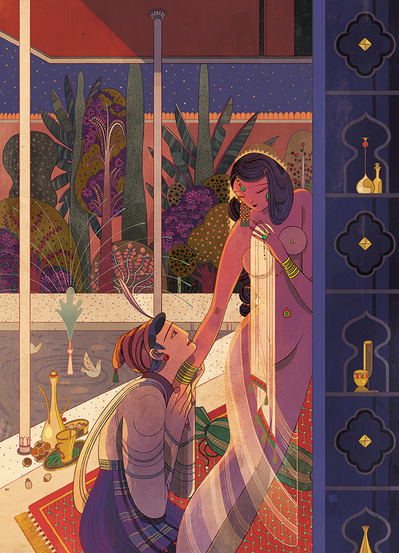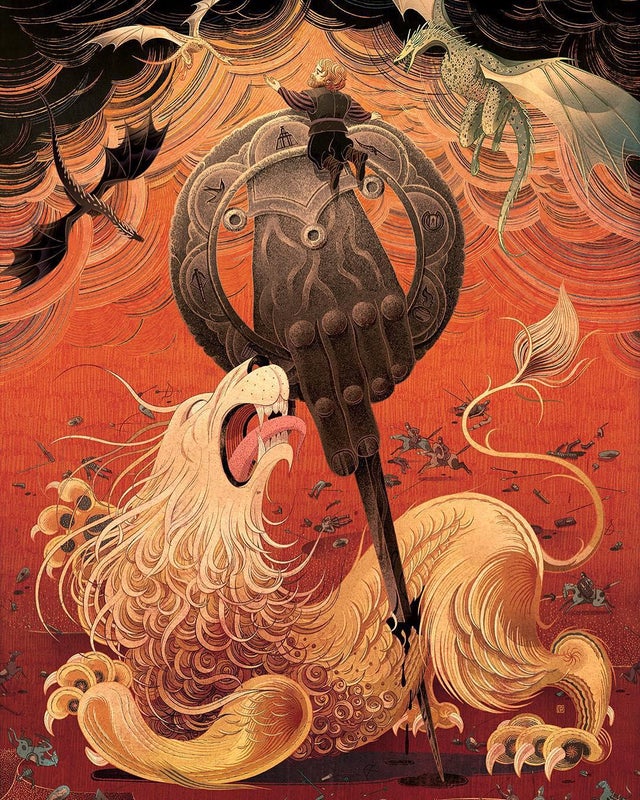 What do you find inspiring?
Her insane amount of detail!!!!!!!!!!!!!!!!!!!!!!!!!!!! Nothing is just for decoration.
What medium(s) do they use?
I'm not sure. On paper then digitised?
How do they creatively interpret the text for the article?
To be fair, the article is about herself and her work, so it's not much about creatively interpreting the text for the article but just explaining her own interpretation of art and her fantasies.
"Art is a space where I can be my own master – I love that within that space, I can disregard the rules of our reality, and yet manage to create worlds that people can get lost in."
"By draping subjects in a cloak of fantasy, it becomes easier to explore difficult topics and reflect upon ourselves a few degrees removed."
ii. Molly Mendoza (in Fantasy)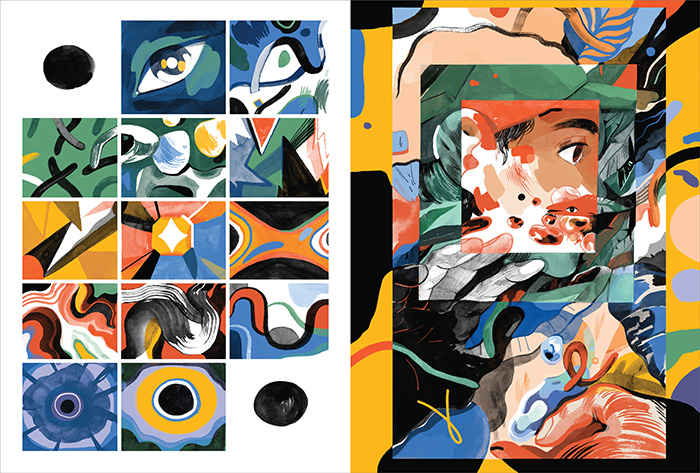 Digital Fantasy from Messy Reality
Billie Muraben investigates immersive indie games Heaven's Vault and Telling Lies.
What do you find inspiring?
I like that Mendoza did not conform to the stereotypical visuals of fantasy, as pictured in the Google and Pinterest searches below.

What medium(s) do they use?
Traditional
How do they creatively interpret the text for the article?
As described by Victo Ngai where fantasy is just looking at subjects "a few degrees moved", I like how Mendoza takes recognisable objects and distorts them in an abstract manner to create a distorted reality.
iii. Radio (in Taste)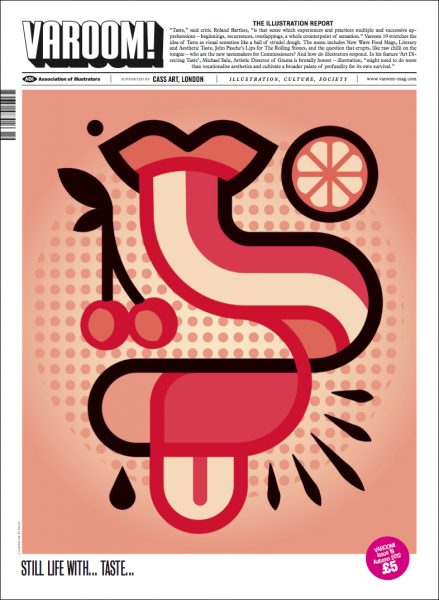 Cover illustration created for Varoom by Radio. 
Varoom 19 stretches the idea of Taste as visual sensation like a ball of strudel dough. The menu includes New Wave Food Mags, Literary and Aesthetic Taste, John Pasche's Lips for The Rolling Stones, and the question that erupts, like raw chilli on the tongue – who are the new tastemakers for Commissioners? And how do illustrators respond. In his feature 'Art Directing Taste', Michael Salu, Artistic Director of Granta is brutally honest – illustration, "might need to do more than vocationalise aesthetics and cultivate a broader palate of profundity for its own survival.
What do you find inspiring?
Radio's ability to portray not just a mouth, but taste, and not just one taste, through such a simple vector image.
What medium(s) do they use?
Digital vectors
How do they creatively interpret the text for the article?
The Taste issue of Varoom talks about not just the taste of food, but also on people's literary, aesthetic, and music taste. By not using realistic food illustrations, we are directed away from believing that the magazine will talk about only food. The use of red also makes it seem like the content's gonna be spicy.
iv. Joy Miessi (in Nostalgia)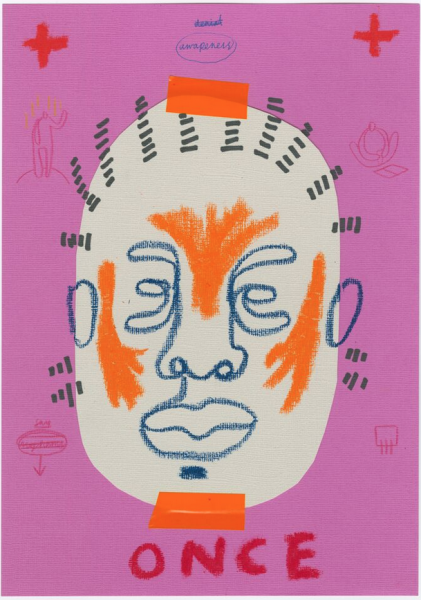 Awareness by Joy Miessi | Aisha Ayoade talks to Joy Miessi about preserving memory in mixed media for her most recent exhibition.
What do you find inspiring?
The mad simplicity…!!
What medium(s) do they use?
Traditional, looks like crayon, maybe colour pencils? Tape, paper
How do they creatively interpret the text for the article?
Nostalgia? Crayons? Simple, rough, almost scribbly lines? About preserving memory? The art style couldn't be more appropriate for the article.
—
(Not from Varoom). Katie Scott
What do you find inspiring?
I love Katie Scott's works. She turns her research of ancient science and scientific theories about the world into fantasy-like illustrations of regular biological things like plants, animals, fungus, evolution (dinosaurs), etc. They look so normal, so calm, yet so odd, some of the time. They're so real, yet sometimes look like they're not from this world.
What medium(s) do they use?
Pen on paper, scanned watercolour swatches with adjusted hues 
How do they creatively interpret the text for the article?
Oops. Katie Scott isn't from Varoom. I did this before I realised the artists were supposed to be from Varoom.