Artwork Review
(Source taken from: https://en.wikipedia.org/wiki/Cadillac_Ranch#/media/File:Cadillac_Ranch.jpg)
Title: Cadillac Ranch
Artist: Chip Lord
Year created: 1974/1994
Medium: Installation
Overview
Cadillac Ranch is an installation of 10 Cadillac's buried nose deep in a line, in the dirt along route 66 west of Amarillo.
Its almost as if they were droven off a cliff and plunged head first into the ground. Now useless, the owners wander off looking for help and the Cadillacs lay, left there buried with their tailfins in the air waiting for travellers to chance upon it.
After awhile, the work was subjugated to the whims of the travellers, meaning they were either defaced with graffitti or ripped apart as souvenirs. Whats left of these cars are but a line of rainbow coloured skins of their former selves, rebirth into comic relief for a travellers amusement.
(Source taken from: https://www.roadsideamerica.com/story/2220)
Ant Farm
As mentioned by Constance Lewallen, in his writing 'Still Subversive After all These Years'
Ant Farm — a collective of radical architects who were also video, performance, and installation artists but, above all, visionaries and cultural commentators — offers an intriguing look into the conceptual activity of the late sixties and seventies, a time that has proved to be seminal for succeeding generations of adventuresome artists.
Their work embraces 'the latest technologies to disseminate its scathing criticism of American culture and mass media'.
In the case of the Cadillac Ranch it is a commentary about consumerism and maybe pop culture. What a car and a crashed car is in society. More interestingly is how members of the online communitty take to the idea of a crashed car.
Its almost Ironic, how one can act so indifferent and even gleeful of the idea of chancing upon a crashed car. How satirical their photos get when they interact with the car itself.
Decades have passed. The Cadillacs have now been in the ground as art longer than they were on the road as cars. They are stripped to their battered frames, splattered in day-glo paint splooge, barely recognizable as automobiles. Yet Cadillac Ranch is more popular than ever.
As quoted from roadsideamerica.com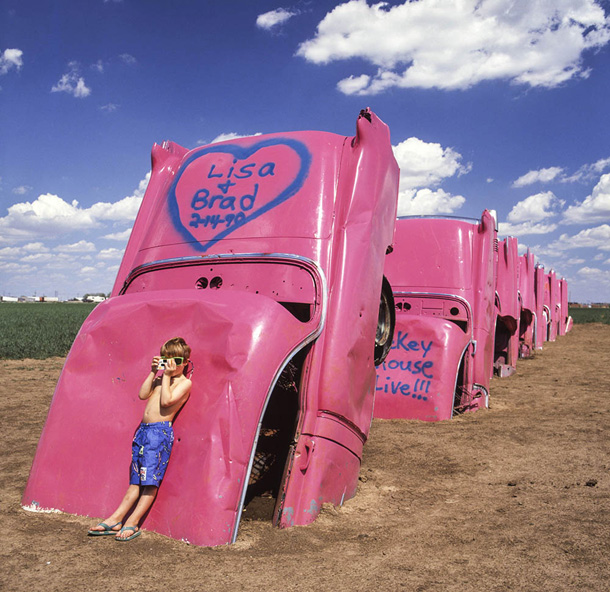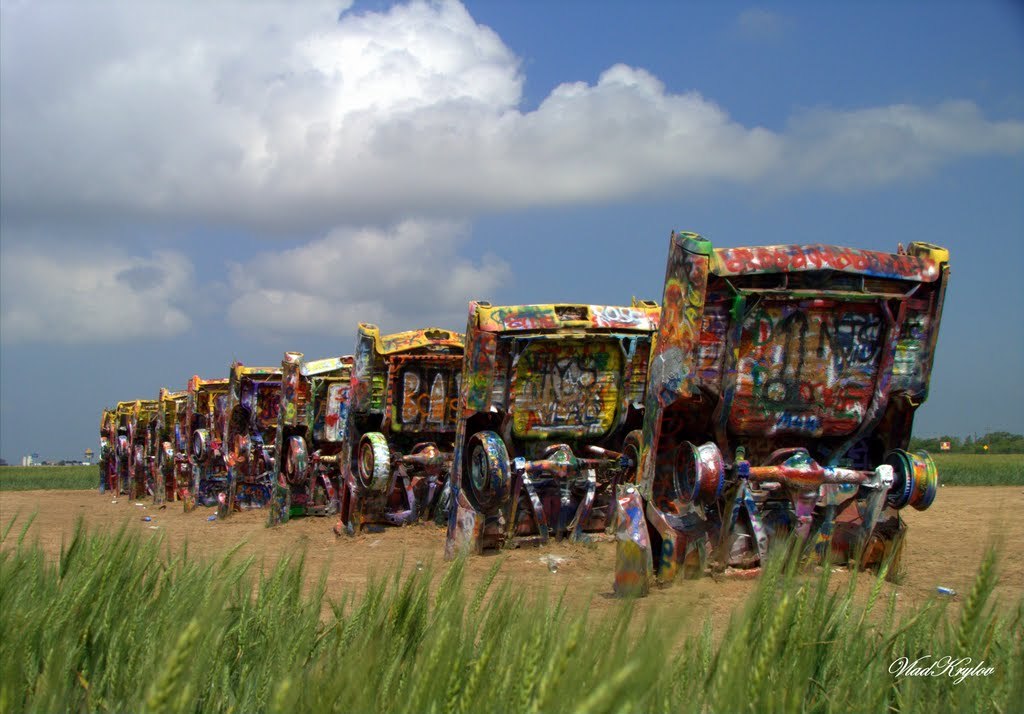 And in a way it is quite interesting as it changes in an unsual way with time.  The artwork evolves with evey added touch of a new tourist own creativity into the mix. It keeps conversations going, give people something new to talk about.
Sources:
https://www.roadsideamerica.com/story/2220
http://www.stretcher.org/features/still_subversive_after_all_these_years/
http://amarillo.com/stories/070404/fea_artbeat.shtml#.WpaDXK6WbIU
http://www.spatialagency.net/database/ant.farm
https://www.moma.org/collection/works/107284
https://en.wikipedia.org/wiki/Cadillac_Ranch
https://www.eai.org/titles/cadillac-ranch-1974-1994
http://slide.ly/buzz/view/0753e05835bf697ae7eee5b1329f801f