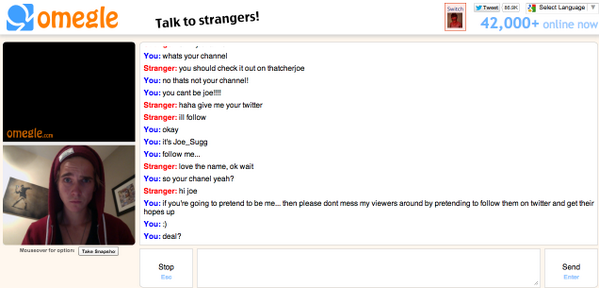 Inspiration /

After watching "unfriended" and "Noah", in which both films are depicted entirely on a computer screen, I've been fascinated with this new form of storytelling.
My film would be done in similar fashion. It takes place in both the character's reality and whatever that is taking place on the computer screen.
Logline /
An encounter on an online web streaming site leaves Joe helpless and frustrated as he tries to save a life from his room through the internet.
Treatment /
At 4am, restless and lonely, Joe turns to an online webcam platform to chat with strangers. Slightly preoccupied as he casually does his own stuff, he connects and disconnects with a couple of random strangers.
His attention gets shifted to the computer screen as the screen stopped flashing and he is now connected with a black screen.
Stranger (S – Typing): Hey
Joe (J- Using a microphone) : Hey, what happened to your face? (Jokingly)
S: It's a mess.
J: Haha I'm sure it isn't thatttt bad. Come on, turn on your camera.
-No reply-
J: Are you a girl or a guy?
S: Does it matter?…
J: Honestly, I don't wanna be wasting my time talking to a dude.
S: F.
J: Well, that's a start.
(Joe continues to keep the conversation going as he makes it a challenge to himself to get this stranger to show her face)
J: I'm Joe, you? What brings you here?
S: I don't know.
J: Hmm. There must be a reason. Like for me, I can't sleep because I'm afraid of the monsters under the bed. I don't judge, I mean you can tell me anything. We're technically strangers.
S: I'm going to die.
J: What do you mean die? You have cancer? Or like some disease?
S: No. I'm going to take my life.
J: Dude, is this like some sort of prank / joke to see if I fall for it? And then I'll appear on youtube like a loser?
S: No. You told me I can tell you anything because we are strangers and I'm telling you this. Why are you judging me?
The conversation continues as Joe tries to persuade her with his perspective of life but to no avail. He threatens to hang up and be done with this but he ultimately doesn't. He contemplates calling the police / googling IP address to track her down but it's like searching for a needle in a haystack.
This black screen stranger is firm on her decision and tells Joe to stop. Joe doesn't. With no information on this girl he becomes frustrated and helpless.
In bids to calm him down, the stranger finally speaks into her microphone "Joe."
The black screen stranger turns on her camera – A face badly burnt appears on screen.
S: "It's okay."
Joe slightly appalled and speechless. He slumps into his chair.
J: "I…"
S: " I know I'm selfish. But I just don't want to have to deal with this anymore. Please understand. I only came here to feel less alone and you've done that for me. Thank you for caring and I'm glad to have met you. I'm going to go now. Have a good life"
J: NO NO NO NO.
Stranger disconnects. A bunch of kids doing lip syncing gets connected.
Comments /
Well, nothing is concrete yet. The idea is that Joe is trying to save someone from where he is, over the internet. The girl could be anywhere in the world and that idea itself is actually really chilling for me. Because like Joe, we know nothing of this girl. We may or may not be compelled to want to save her too – I think this depends largely on how the conversation is crafted in order to direct and bring out that conviction of this girl and why she believes that dying is the best solution. It might be fake, it might be real, we wouldn't know as well.
I contemplated having a webcam girl asking for help (like she's being forced into adult cam or something). Or some life threatening situation, but I think this situation works best for me. Although the least exciting, I think it gives us space to observe the conversation and get to know both Joe and the girl.
Lastly, like I mentioned above, I would like to film Joe's reality as well, apart from it just being on the computer. Mostly how he deals with things that we don't see outside the frame of the computer's camera.
Anyway, would love to hear from you guys.