Anodized Aluminum
Anodized aluminum creates cool, kid-friendly climbs. The panels on our Mobius® climbers are made of recycled, textured, anodized aluminum. This rust-free surface refracts sunlight for a comfortable climb all summer long and is virtually maintenance free. And it's grippy, so it helps kids maneuver safely through their loopiest climbs. Panels in cool silver; steel supports in any ProShield® color.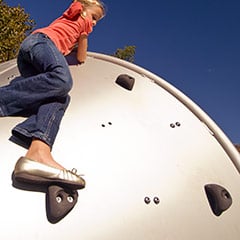 CableCore® Material
CableCore® material is tough, gentle and made to last for years. Unlike traditional ropes that can rub skin the wrong way, our CableCore material has a durable, UV-stabilized, easy-on-the-hands polyurethane coating surrounding a super-strong, aircraft-grade, galvanized-steel core. Our exclusive material won't deteriorate or fray, become too hot in the summer or cold in the winter. And its gentle ridges provide a soft, sturdy surface kids can latch onto for climbing or hand-over-hand swinging. And with its thoughtful engineering, it can go for a generations without replacement! U.S. Patent #6,475,117
Concrete
We use Glass Fiber Reinforced Concrete (GFRC) and wet-cast concrete to create specific concrete products. We spray GFRC into molds to create larger scale panels with intricate surface detail. GFRC can also be hand-sculpted onto steel frames, which we use to create more sculptural elements like 3D figures, animals and highly customized designs. We use wet-cast concrete to mold solid objects with precise detail.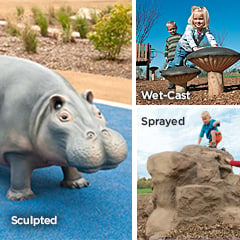 CoolToppers Fabric
CoolToppers® are designed to protect kids from up to 90 percent of the sun's harmful UV rays and keep playground temperatures up to 30 degrees cooler. It's also flame retardant and resistant to mildew, fading and ultraviolet rays, making it a long-lasting, great looking addition to your playground. Available in seven colors shown, and custom colors for an additional charge.
Galvanized Steel
We only use galvanized steel for maximum durability. All galvanized steel parts are ProShield® finished for optimum corrosion resistance, UV stability and gloss retention.
GripX
GripX is a UV stabilized HDPE (high-density polyethylene), marine-grade material. Specially designed slip resistant texture enhances traction and appearance. Easy to clean and endures harsh climate conditions.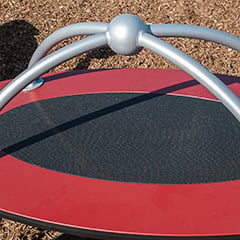 Permalene® Material
Permalene® panels look like new year after year. In 1985, Landscape Structures introduced Permalene material to the marketplace in kid-friendly activity panels. Today, we use this strong 3/4"-thick, customized material for interactive play panels, tables, handholds and signs. The distinctive black core in these 73 percent post-consumer recycled panels is the result of combining and recycling colored plastic household containers.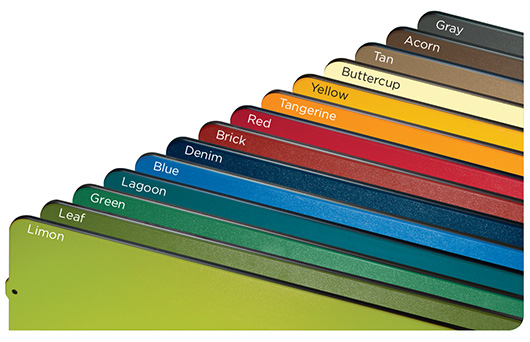 ProGuard™ Finish
Difference you can see! ProGuard is a new super-resistant finish now applied standard to all Landscape Structures swing chain that's at least two times more corrosion resistant than galvanized steel chain.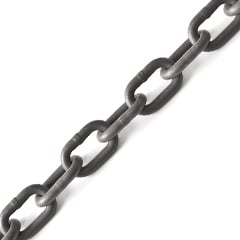 ProShield® Finish
ProShield® finish is a smart combination of beauty and brawn. Our ProShield finish is so tough, it substantially increases the durability of our products. We've combined a specially formulated primer with a high-quality, architectural-grade powdercoat topcoat. The result is enhanced longevity, greater protection against harsh UV rays, prevention from corrosion and improved product performance. You'll first notice the vibrant, long-lasting color and glossier finish. You'll appreciate the fact that something so attractive also reduces corrosion and chipping, requiring less maintenance. It's available in all the great colors you've come to love. And we reclaim our epoxy primer within the process, eliminating waste powder.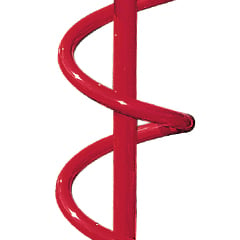 Recycled Planks
Looks like wood, but lasts longer and are easier to clean. Created from 100% post-consumer high-density UV-stabilized polyethylene material to prevent warping in direct sun. Thickness of material varies by individual product.
Rotationally-Molded Polyethylene
The heavy-duty rotationally molded polyethylene material ensures strength and durability while resisting cracking, fading and peeling. Components constructed of durable double-walled polyethylene have built-in safety and are easy to install.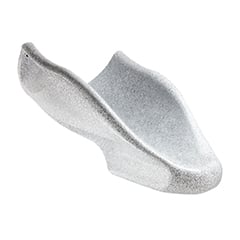 Steel-Reinforced Climbing Cables Powered by Berliner
Steel-reinforced cables provide years of safe, bouncy fun. Made of tightly woven, polyester-wrapped, six-stranded galvanized-steel cable. These abrasion-resistant, color-stable cables are extremely durable and vandal resistant. Powered by Berliner Seilfabrik, one of the most experienced manufacturers of steel cables in the world, with a global reputation for top quality since 1865.
TenderTuff™ Coating
For swing chains, handholds, pipe barriers, wheels, rings, etc. Available in Red, Tan, Blue, Brown and Gray. Insulates against temperature extremes and provides a safer grip surface compared to painted metal. TenderTuff meets all safety standards and complies with Public Law No. 110-314, Consumer Product Safety Improvement Act of 2008.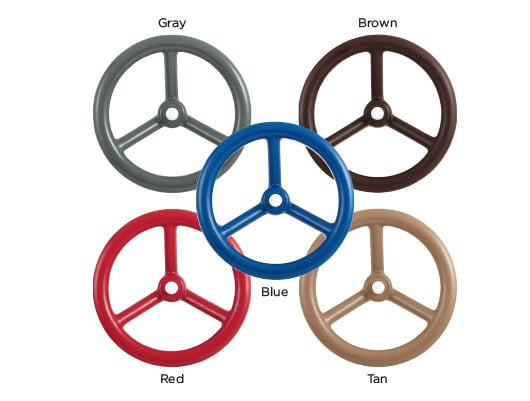 Textured-Polyester Resin Handgrips and Footholds
Durable, easy-to-grasp handgrips and footholds made of low-density, UV-stable polyester resin. Large enough to ensure secure grips, feels just like the climbing gym.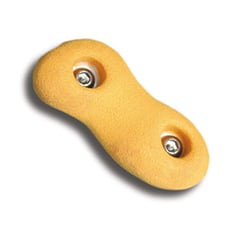 Source: https://www.playlsi.com/en/our-story/top-quality-and-service/materials-matter/materials-matter