Concept Development 1
My initial idea was to photograph kids from the orphanage. Why did I choose to do this? Last year December, I worked for a Christmas event where elderly from the Old Folks Home were present to celebrate Christmas. I was told that the event was meant for the elderly but also realized more and more kids appearing at the event. I talked to one of the organizer and found out that they initially only invited the elderly but considering that children will bring more laughter around the elderly, they invited children from the orphanage to join in the fun.
During the event, the kids were running around having fun and taking photo with the elderly too. Despite staying in the orphanage, they lived just like any other kids where everywhere is filled with laughter with them around.
In my project, I want to photograph the children in a way where I want my audience to feel the happiness they are experiencing with the children's realest laughter.
At the end of the day, your feet should be dirty, your hair messy, and your eyes sparkling. – Shanti
I emailed one of the orphanages and hoping to get their approval to photograph the children however, the replied I get was disappointing.
I have to think of new ideas 
---
Research
1. Dorothea Lange
America's greatest documentary photographer. She is best known for her chronicles of the Great Depression and for her photographs of migratory farm workers.
During the Great Depression, Dorothea Lange photographed the unemployed men who wandered the streets. Her photographs of migrant workers were often presented with captions featuring the words of the workers themselves. Lange's first exhibition, held in 1934, established her reputation as a skilled documentary photographer. In 1940, she received the Guggenheim Fellowship.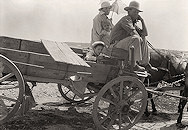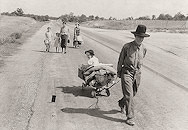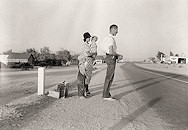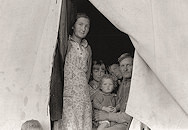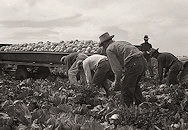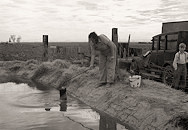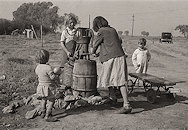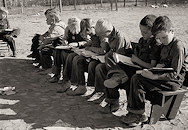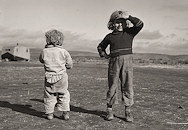 "While there is perhaps a province in which the photograph can tell us nothing more than what we see with our own eyes, there is another in which it proves to us how little our eyes permit us to see" – Dorothea Lange
I love how her work is not pre-arranged or staged. All her photos allows us to have some imagination on what is going on, what is the subject doing in the photos? Her works shows us the authenticity of the surroundings which is something I would love to archive in my series of photos.
2. Henri Cartier-Bresson
A pioneer in photojournalism, Cartier-Bresson wandered around the world with his camera, becoming totally immersed in his current environment. Considered one of the major artist of the 20th century, he covered many of the world biggest events from the Spanish Civil War to the French uprisings in 1968.
Henri Cartier-Bresson was a master at taking photos of children in their natural playful state, creating images that convey beautiful nostalgia to his viewers. I feel that it's not easy to capture children as most of the time they will be fidgeting around. I like how he managed to capture them so perfectly and in it's realest form.
---
Concept Development 2
As mentioned earlier, I will have to change my idea from orphanage to something different. I decided to do on Cobblers. I realized cobblers in Singapore are mostly run by old people and hardly we see any young people working as cobbler. This are the more traditional type of cobbler from the older days. This shows that in the near future, cobbler in our neighborhood might not be around anymore. They face competition everywhere like the more modern cobbler in shops and the thought that people have where they can easily get access to new shoes instead of sending it for repair.
Through this project, I want to show that nowadays only old people are doing this business and it might disappear in the near future.
Some background information of cobblers:
Each cobbler usually works from a cart, where the shoe toolkit and repair materials are placed within their reach. Stools are provided for customer who wants to wait for their shoes to be mended on the spot. Some cobble uses trolley for easy transport and setting and packing up becomes easier/more convenient for them.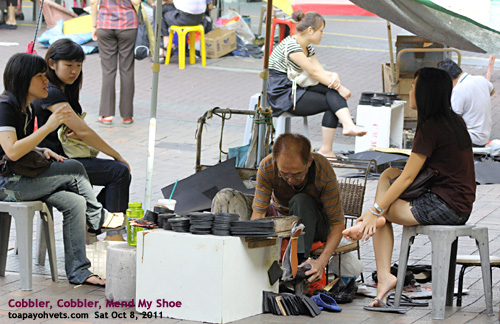 *online references
---
Concept Development 3
I went to research more on cobblers and where can I find them? Recently as I travel around, I tend to keep a lookout on whether there is cobblers around. I knew that there was two at my house area which is Hougang however, I only managed to photo one and I couldn't find the other one anymore. There was also another one that I saw at Hougang Mall but I didn't manage to take a photo because I was rushing for time.
When I doing research online, I read an article where they say Chinatown still has many traditional cobblers around. I went down on one of the days and managed to capture a few but it rained after that and I could not proceed anymore.
Here are a few shoots that I took.
---
Concept Development 4
Now I have to think of how I want to present my work. I wanted to do everything black and white which gives off a feeling that this jobs soon will not be seen in Singapore. However, I feel that it doesn't work so well in this series of photo. So I tried only black and white the cobblers and his tools while keeping the background in colors. I feel that it gives off a better message as to showing that those jobs are disappearing without you noticing.