Data Collection
We have been collecting data from our own Instagram account regarding  people perception of beautiful women as well as their facial features that are attractive. We also collected data of female's characteristics to help us in our live video preparation.
Creating the "Ultimate Beauty"
With all the data collected from our Instagram account, we came out with 10 different combination of faces with the facial features collected. Along with the internet top 10 beautiful women's face shape.
| | | |
| --- | --- | --- |
| Face Shape | Name Collected | Facial Features |
| Priyanka Chopra | Zooey Deschanel | Eyes |
| | @mongabong | Smile |
| | Audrey Hepburn | Nose |
| Dakota Johnson | Melody Low | Eyes |
| | Jade Ahn | Nose |
| | IU | Smile |

Rating our top 10 contestant
With the Top 10 contestant that we "created", we get people on our Instagram account to do online rating for individual contestant with Instagram build-in function.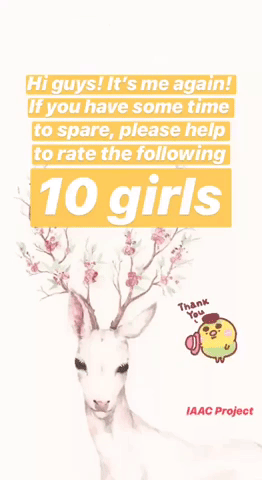 Here are the results!
We determine our top 3 from the result collected on our individual Instagram account and took the average from both rating.
creating personalities
From our data collection of female's characteristics that are attractive, we came out with 3 different personalities for the Top 3 contestant, the confident, the funny and the intelligent. After which we get our friends to help us voiceover for the different contestants and use it in our live video.
Q1: Tell me more about yourself.
Q2: Why do you think you should win this pageant?
Preparation
Before the live video, we did lots of printing and cutting of the contestants face and the lettering for our sash and background. And yes, Viena made a sash for this contest too! We then set up the room with a spotlight and did up a backdrop for our video.
Check out our Miss Beauty 2018 video here!