This reflection is focused on Old Media: A History and Theory –  Part V: Theorizing "New Media" – Modes of Digital Identification. Virtual Technologies and Webcam Culture by Ken Hillis: Web technologies.
From reading Hillis' essay, I understood that the accelerating shift towards an image culture is greatly supported by visual technologies. These have significant implications for how subjectivity and self-identity are reconceptualised and practised. This is especially so in the field of Virtual Reality, which is Hillis' speciality, where there is a cultural dismissal or blurring of distinctions between the real and the virtual parallels. Virtual reality then becomes a sense-making and physiological construction which is increasingly commodified, branded and mediated for the experience of the user.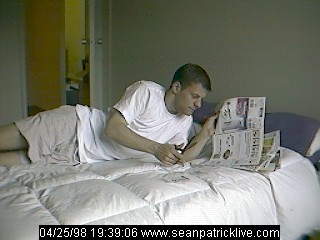 Hillis also reflected on the telefetish trend of the early 2000s where people on the internet turned themselves into "24/7 stars." This was interesting as in Joanne McNeil's essay, Connected by Camera (which I reflected on for Interactive I), she also mentioned this phenomenon. Perhaps the mentioned "commodification" of the self-image provides the opportunity for multiple identities that one may portray on the internet – so as to attain celebrity status. This behaviour reflects that of society – mass-consumerism and commodification, and the accelerating value fo celebrity status. In this way, new media art can act as a certain zeitgeist. Hillis notes that the act of producing one's digital self-image is the "first step in becoming a global kind of commodity fabricated (if not destined) for exchange".
I thought it was interesting that multiple essays on new media and the development of technology and the web note on this telefetish phenomenon and the roots of "cam girls/boys". Perhaps it is the narcissism and intrinsic voyeuristic desires that have allowed this to continue at such a significant rate.
---
Hui Kyong Chun, Wendy and Anna Watkins Fisher, eds. New Media, Old Media: A History and Theory Reader. New York, NY: Routledge, 2015.