For this project, we had to propose an idea of an installation work that considers time, space and body. Here are a lists of controversial video, sound or performance art installation that I thought were quite interesting to look at and hopefully adopt certain ideas or styles from these artists.
Santiago Sierra 
His works mostly focuses on social issues of our economy today and highlight some of the often ignored problems inherent to a globalised capitalist economy. His works usually encompasses photography, video, text, sound, installation and sculpture. This  reveals the scope of Sierra's practice and how he articulates his ideas through different media.
Sierra's work normally takes the form of ephemeral actions or temporary interventions. While adopting a minimal language, he creates 'incidents' that highlight the existence of situations of conflict. Many of Sierra's more recent projects have been the outcome of a particular social context, exposing the reality of that environment.
For the past two decades, Santiago Sierra has carried out provocative actions around the world. Influenced by the formal language of the minimal and conceptual art movements of the 1960s and 70s, Santiago Sierra's work addresses the hierarchies of power and class that operate in our modern society and everyday existence. Sierra became well known for his actions in which underprivileged or marginalised individuals were hired to perform menial or pointless tasks in exchange for money.
Pieces like these underline the situations of labourers' exploitation, isolation, and repression within capitalist structures. By transforming individuals into consumer goods, Sierra also highlights current socio-political issues while challenging the intrinsic mechanisms of reality.
As a result, the essence of his work can often be found exemplified in the tension that is generated and sustained between the ephemeral performance, its documentation, and the spectator. The latter is hence exposed to the edges of morality and permissibility, but also to the formal and poetic articulation of the voices of those who are ordinarily invisible or unheard.
Wim Delvoye
Wim Delvoye is not merely an artist – he's a provocateur. An enfant terrible of the contemporary art world, Delvoye's work is often designed to shock, appall, and provoke. The Belgian artist regularly pushes the boundaries of his craft, forcing audiences to question his ethics – not to mention how we should be defining 'art.' He's since become well-known in the art community for his provocative works employing a range of rather unconventional materials, to include fecal matter.
In 1997, Delvoye began tattooing live pigs in Europe – a practice which was, unsurprisingly, met with widespread criticism from animal rights activists.
In 2004 he bought a farm in a small village outside of Beijing, where animal rights laws are practically non-existent. He systematically elaborated a new concept that he called his 'Art Farm.' Here, specialists look after his pigs, while the artist sedates them, shaves their skin, and tattoos them. Veterinarians treat their skin after the process to ensure that their wounds are clean and their skin is properly moisturized.
The tattoos themselves are based on Delavoye's drawings, mostly references Western iconography such as the Louis Vuitton monogram and characters from Disney films. By placing these iconic images on pigskin, the artist takes away their commercial value. They become pure decoration – their only purpose is to shock.
The artist sees the pig as an investment. Pig skins value highly in China, so Delvoye tattoos his pigs when they're young. Buyers can choose from live or taxidermied pigs; some buyers choose to purchase the piglets and let them grow old on the farm. Others choose to purchase the pig's skin after its death.
Delvoye doesn't slaughter his pigs for their skin, but he repurposes their lives as living canvases. They are objects of a different form of consumption in life and death. In several different cultures, pigs are associated with filth, gluttony, and greed. But Delvoye compares them to humans, noting their perceived nudity and the texture and color of their skin.
With this piece I think it's interesting how the artist used this notion of "branding" on a live animal. Often people purchase luxury goods made from the skin of exotic animals but they fail to realise the origin of these animals and how often they are harvested, slaughtered and tortured for their commercial value. I love the juxtaposition of taking something nice and innocent like characters from disney films and luxury brand logos and tattooing them onto a live pig that is portrayed as dirty and a symbol of greed.
Laura Lima
Working across mediums, the artist frequently subjects the body to surprising juxtapositions with objects and architectures. With each installation, Lima consistently reinvents the viewer's encounter with her work, skillfully considering the nature of perception, social relationships, and human behaviors, while creating profound and startling aesthetic experiences.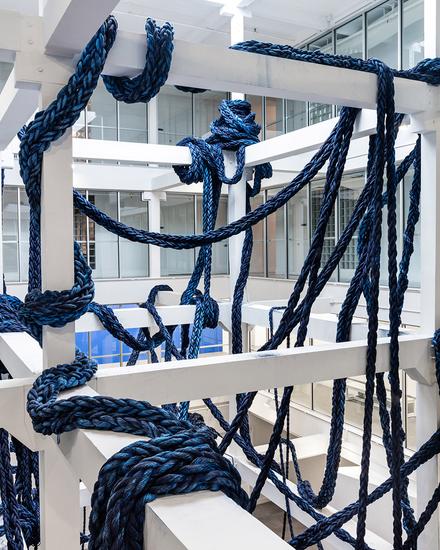 For this monumental, site-specific installation, Lima entangles the gridded support beams of the museum's Atrium Gallery with industrial nylon rope. Enormous at one end, the braided material dwindles in size until it seems to merge with a female body. Set still and partially out of view, the participant's body achieves uncanny abstraction, presence, and suspense.
"The Inverse" poses challenging questions, engaging topics related to identity, representation and agency. The female body, and the many fluid ideas of the feminine, is central to.
"The central topic of this conversation is to understand their part and the choices they make in bringing the work to life. Participants are not obligated by a script and are free to inhabit the space as they wish."
This work brought about controversy when performers for felt pressured to perform sexual acts using a nylon rope at the museum. This is an example of a "happenings" type of performance art that required the audience to do certain things using the props provided.
I think it was definitely interesting to see the different styles and techniques artists used to convey an idea, regardless of how crazy some of them may be. I think I would want to look more into the different ways in which I can bring across a message of an issue such as multimedia installation, interactivity etc. while keeping consideration of the space and audience in mind.