000 Initiation:
Understanding emotion
Emotions are things that we feel but unable to see.
I think everyone feels emotions differently as it is subjective.
Perhaps the intensity of the emotions we feel differ but we can all have a common basic understanding.
Medium selection
Honestly, I have never used Photoshop to paint before but I want to start digital painting so I decided to use digital painting for this assignment.
Here is a practice I did to know the program better. I used reference for this.
It is a scene from a movie, Blade Runner 2049. I ran into it while googling about cinematography.
My first digital painting on PS

I dunno what happened to my snip tool but the first image came out cropped (?)
I tried to establish tone and value but I think i didn't really do a good job since I could render it even more.
Anyways it was done in the time limit of 1hr30min.
And to comment, now that I look at it again, I would remove the light in the foreground or dim it because it is distracting the audience from the main focus.
Upon reflection, I realized that the aspects I need to work on in this project will be how mood and atmosphere can be used to convey the emotion. I have to consider the composition as well as the colours to be used and painting technique.
I'm probably going to die painting 6 of them…
---
001 Research:
Impressionism 
French 19th century art movement
Emphasize the artist's perception of the subject matter and the subject itself
Capture their images without detail but with bold colors.
Applying paint in small touches of pure colour
Outdoor painting to catch a particular fleeting impression of colour and light
Artists
Claude Monte
The first time I saw one of his works while scrolling through social media I was stunned by his use of colours and brush work.
Someone did this:
I'll try something like this on my own keke
Limited colour palette. Depth is creating using value and shapes.
Monet's use of texture gives each painting a unique touch.
Frank W Benson

I ran into one of his works but someone made it into a meme so I took quite a while to trace back to the artist.
…. They should just credit the artist seriously
The meme:
The original work:
The brush work and colour choice make the focus pop in this painting. He depicted light in such an elegant but poweful way. Stunning.
The use of contrast and depiction of light conveys the mood and atmosphere in a tranquil manner.
Atmospheric Painting
Artists
Alison Johnson
Ephemeral, warm powerful and evocative she creates a sense of movement through colour, light and balance.

-ArtGallery.co.uk

https://www.artgallery.co.uk/artist/alison_johnson_2
Alison Johnson's use of vibrant colours as well as expressive lines and strokes adds energy to the painting. The composition of sparrows and the waves of colour illustrates action and movement.
Limited Colour palette employed, which creates harmony
More of her works at:
https://www.boredpanda.com/atmospheres-and-emotions/
JMW Turner
My fave painter!!
Turner was recognised as an artistic genius: the influential English art critic John Ruskin described him as the artist who could most "stirringly and truthfully measure the moods of Nature".
Strong contrast employed to bring out the light. The blacks and shadow sets the right mood and atmosphere, a sense of doom and possibly loss of hope.
Blue and pale yellow (naples yellow?) are complementary colours. It differentiates the land and light. The brush work creates a tranquil scene of a deer walking into the shallow river.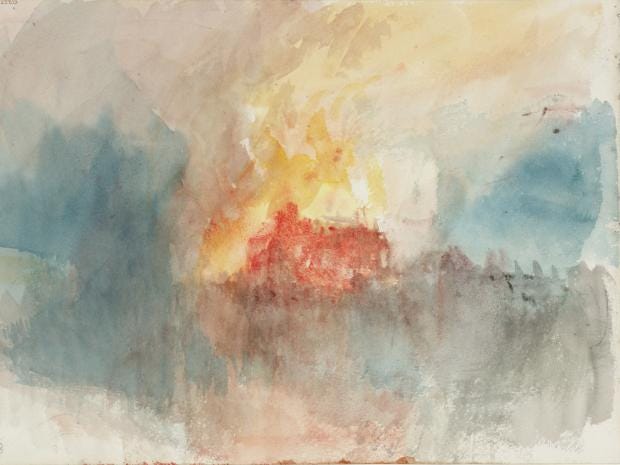 The blue and vermilion contrasts, bringing out the focus
… there's no way you can summarize Turner's techniques in a 5min video….
From the above video I learnt that Turner uses a limited palette to create paintings whereby everything is tied together. There isn't anything that juts out or stand out on its own. The painting itself is one whole.
I also learnt that he captures the essence of what he sees. So details should not be the main focus. Which is my problem.
A senior once told me "Details are exciting but if you get carried away you will lose the big picture."
It took me a while to understood and truly appreciate his comment.
More info on JMW Turner:
https://www.nga.gov/content/dam/ngaweb/Education/learning-resources/an-eye-for-art/AnEyeforArt-JosephMallordWilliamTurner.pdf
After thought:
I decided to focus on just atmospheric painting.
I should consider making use of texture to enhance the mood and atmoshpere of the image.
---
Link to Process and Final:
[to be updated]