VR³ is a project that allows collaborative creation, and visual interaction actualised in the third space(Virtual Reality). The purpose of this project is to create an interactive space for people who usually do not get a chance to experience the art works of Kusama.
This project was greatly inspired by Yayoi Kusama(草間 彌生) 's installations. Yayoi Kusama is one of the most famous Japanese artist and she is a living legend. Here are some Kusama's installation arts:
I. Infinity Mirrored Room – The Souls of Millions of Light Years Away (2013)
II. Infinity Mirrored Room – Love Forever(1996)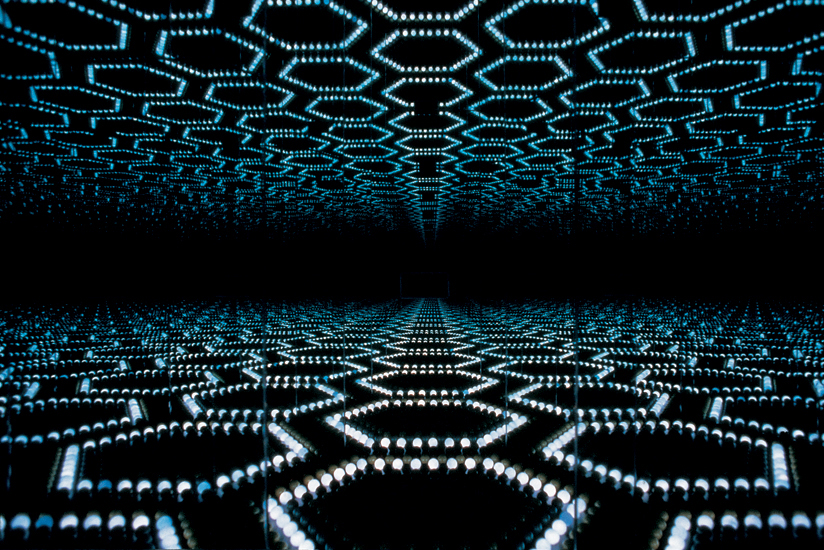 III. Yayoi Kusama "Eternity of Eternal Eternity"「永遠の永遠の永遠」(2011) 
IV. Yayoi Kusama "Eternity of Eternal Eternity"「永遠の永遠の永遠」(2011) 
V. Obliterated room (2012)
 VI. The Obliteration Room (part-way obliterated) (2012)
By watching Kusama's
Self-Obliteration
, this documentary film enabled Kusama to visualise her polka dot:
"Polka dots can't stay alone, like communicative life of people, two and three and more polka dots become movement. Our earth is only one polka dot among a million stars in the cosmos. Polka dots are a way to infinity. When we obliterate nature and our bodies with polka dots, we become part of the unity of our environment. I become part of the eternal, and we obliterate ourselves in love." (Kusama's Self-Obliteration, 1967)
Kusama's paintings, sculptures, environmental installations and performance arts all share an obsession with repetition and accumulation. I was fascinated by her attitudes towards life and artistic insights in modern art. For my concept development, I did researches related to Kusama's life and her art works. I eventually chose three quotes from her, and my object is to develop three different VR space accordingly.
---
I. Infinity space… to be updated
---
II. Eternity space
In 2009, Kusama started working on a new series "My Eternal Soul". The exhibition "Eternity of Eternal Eternity" or 「永遠の永遠の永遠」(in Japanese). With extravagant colours in use, she seems to represent the eternal cycle of life, death and birth. Therefore, I will build the second space "Eternity" based on my understanding.
"Through self-obliteration of one polka dot which is me, my soul returns forever to the universe, via transmigration, as one of the interminable polka dots. Death is negative and life is positive (Yayoi Kusama – Repetition of Meditation as Therapy)." Her thought in self-obliteration has inspired me to make the third space "Obliteration".
---
Many people believed that face-to-face is the best way to interact with people, while VR is the second best way. In the VR world, we can share our "presence" in a more intuitive and compellent way.
Here is an interesting VR social project by Aaron Souppouris:
Project keywords:
– Social experience in Virtual Reality
– Immersive
– Collaborative
– May only available to participants who are VR headset users
---
Possible collaborative platforms :
– JanusVR
– VRChat 
– Unity3D
---
idea #1 – Online tribute installation
To reconstruct/ rebuild/ resite Yayoi Kusama's  "rooms", and transform their physical experience to the Virtual Reality world. Then encourage participants experience the designed "rooms" in the VR world (providing Oculus Rift DK2 onsite).
Themes of the VR Space could be:
I. Obliteration
II.Eternity
III.Infinity
---
Things to do before lunched:
– Make a 'portal' website named VR³
– To create a series of unpolished spaces in VR world
During the project:
– Encourage participants to communicate in the most natural way possible – chat in VR
– Explore in user generated worlds