I received some very valuable feedback during my last presentation, namely:
Rather than focusing on squeezing my project into a fixed space, I should focus more on content and what feelings/emotions I want to emulate through my project.

Consider site specificity. How could I make climate change visible in the context of Singapore? Perhaps by bringing it through different sites in Singapore.
EXPERIMENTATIONS
I feel like because I do not really have a good idea of what I would specifically like to do for FYP, my mind is going all over the place. This is why, for the upcoming weeks, I would like to focus more on just experimenting in order to really try to decide what I would like to do for my final project.
Through these experimentations, I can gauge what kind of emotions/feelings I get from them, and whether they are effective or not. Then I will be able to narrow down on ideas/ know what to focus on more. I will document my experimentations as I go along. 
Experiment #1: Water lines.
Inspired by:
Lines (57° 59′ N, 7° 16'W) is a site specific light installation by Pekka Niittyvirta and Timo Aho.
Image from http://www.niittyvirta.com/lines-57-59-n-7-16w/
Watermarks projects future sea levels onto facades of buildings, by Chris Bodle
Image from http://www.bldgblog.com/2009/02/watermarks/
I really like how these artworks manage to bring up the pressing issue of climate change in the context of the country/ city. It is very simple and straightforward, 'personalised' because of their site specificity, and effective way of calling to attention the urgency of acting against climate change.
So for my experimentation, I would like to just try to display the threat of rising water levels. I could choose from analog – simply using a long & brightly coloured string, or digital – try projecting a line, onto a external wall/surface of ADM.
Experiment 2: Visible pollution.
Inspired by:
Nuage Vert "Green Cloud", which uses laser tracking to project onto emissions from a power plant, by HeHe
Image from: https://inhabitat.com/green-cloud-hehe-helsinki-environmental-art/
Diamonds in the Sky, audio-visual experience that shows pollution particles hitting a tower, by HeHe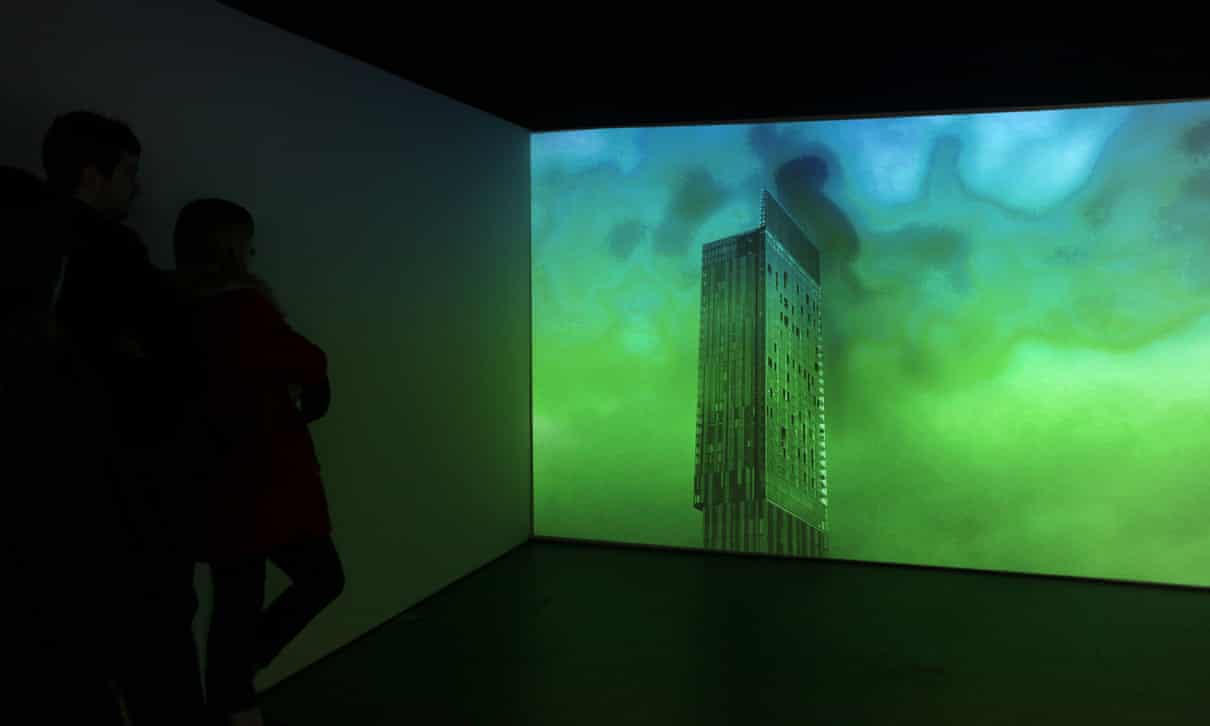 Image from https://www.theguardian.com/science/political-science/2016/oct/28/climate-change-is-invisible-insidious-and-urgent-can-the-arts-help-us-see-it
I love how in these projects, HeHe manages to make pollution visible. I do prefer the first example though: a physical representation of actual pollution rather than a digital one, and I feel that it is more effective.
For my experimentation, I would like to try shining a laser pointer onto some car exhaust fumes, which are a very visible form of pollution. It would actually be very interesting to see what that outcome will be, and I haven't really noticed much exhaust fumes coming out of my parent's car. Perhaps I would need an older vehicle for more visible exhaust? 
---
READINGS
Reading more and understand more about art for social change.
Mapping the Landscape of Socially Engaged Artistic Practice – Alexis Frasz & Holly Sidford of Helicon Collaborative, 2017
Assessing Socially Engaged Art – Vid Simoniti, 2018
---
Also, I would like to include a list of readings I have done so that I will have all my resources in one place.
Does activist art have the capacity to raise awareness in audiences?—A study on climate change art at the ArtCOP21 event in Paris by Laura Sommer and Christian A. Klöckner, 2019
Tangible User Interface Design for Climate Change Education in Interactive Installation Art by Caitlin de Bérigny, Phillip Gough, Majdi Faleh and Erika Woolsey, 2014.
Beyond Eco-Art: 21st Century Eco-Visualisation by Tiffany Holmes, 2011 
Representing nature: art and climate change by Malcolm Miles, 2010
Representing, Performing and Mitigating Climate Change in Contemporary Art Practice by Gabriella Giannachi
Understanding (and Reducing) Inaction on Climate Change by Matthew J. Hornsey and Kelly S. Fielding, 2019