News:
Yishun cat deaths: Some cats did not die of abuse, say SPF, AVA

SINGAPORE: Preliminary investigations have shown that some of the 26 cats found dead in the Yishun neighbourhood since September last year did not die due to animal cruelty, the Singapore Police Force and Agri-Food & Veterinary Authority of Singapore (AVA) said in a joint media briefing on Friday (Jan 29).
Eighteen cat carcasses had been sent to AVA's laboratory for post-mortems, but another eight had been buried or disposed of before the authorities were alerted to the cases, the authority added.
While investigations are still ongoing, the authorities said seven of the cat deaths have been attributed to non-abuse causes such as natural causes, traffic accidents, and falls from heights. Nineteen out of the 28 cases remain open, including two reported cases which involved injured cats.
"Stray cats are constantly exposed to the elements and face various risks such as starvation, disease, cruelty or even getting knocked down by vehicles," said Mr Joshua Teoh, Deputy Director of the Animal Management Department at AVA.
"The risks can be fatal, and hence they should not be left outside in the environment, but should be rehomed and properly cared for by their owners."
AVA representatives also mentioned they had not established any significant difference in the number of cases in Yishun compared to other areas in Singapore, and said it was possible that the apparent trend of cat deaths in the neighbourhood could be due to various factors, such as media coverage or even the number of cats in the area.
Yishun man pleads guilty to animal abuse for throwing cat to its death
SINGAPORE: A man pleaded guilty to one count of animal abuse on Tuesday (May 10). Lee Wai Leong, 41, threw a male cat 13 storeys to its death in October last year because the cat "had been very noisy", the court heard.
Lee, who suffers from moderate intellectual disability and has never been employed, picked the stray cat up from a staircase landing on the ground floor of Block 115B Yishun Ring road on Oct 30 last year.
He took the lift up to the 13th floor, where he threw the cat over the parapet before taking the lift back down to see whether the cat had survived. It had not. A report later concluded the cat died from traumatic injuries and multiple fractures as well as organ failures.
Yishun cat deaths: More volunteers needed to patrol neighbourhood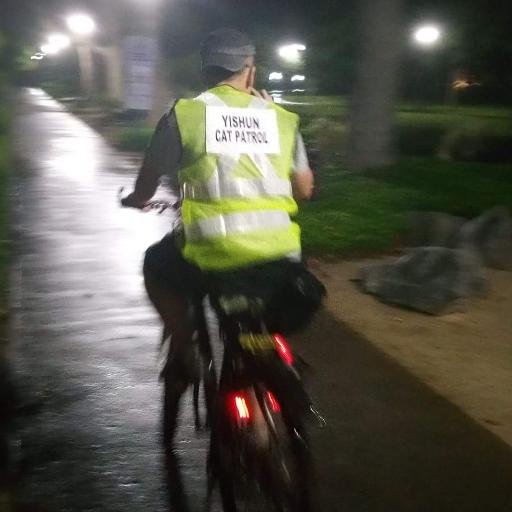 SINGAPORE: Following a recent spate of cat deaths in the neighbourhood, animal welfare activist Louis Ng, Member of Parliament for Nee Soon GRC, said a grassroots fast response team will be beefed up to gather evidence and conduct patrols in Yishun.
The team currently consists of about 20 to 30 cat feeders and concerned residents. More volunteers are being added to conduct more patrols, gather evidence on abuse, and alert residents when suspected abuse is taking place, he said.
Volunteer Janet Sum said they would like to add "as many people as possible" to the fast response team, including expanding the team of those doing overnight patrols from four to six, to at least seven members. Many of the cases of suspected abuse take place between 2am and 4am, said the private tutor, and the current volunteers are "overwhelmed and overstretched".
Chong Pang cats get feeding spot
HER love for cats often triggers a backlash from fellow residents in Chong Pang. Housewife Karen Low, 58, has been feeding stray cats in her estate since 2004, but though she cleans up after doing so, she gets scolded by neighbours who accuse her of creating a mess with leftover cat food. Such misunderstandings can soon be avoided, thanks to a centralised cat-feeding station set up at the void deck of Block 115A in Yishun Ring Road.
"It's a convenient area for feeding…and it's easier to clean up as well. Otherwise, you have people feeding cats at many different locations and it becomes more troublesome," Minister for Foreign Affairs and Law K. Shanmugam said at the station's launch yesterday.
The station is the first in Singapore and was set up jointly by the Sembawang-Nee Soon Town Council, National Environment Agency, Agri-Food & Veterinary Authority, Society for the Prevention of Cruelty to Animals, Mutts and Mittens Foundation and Cat Welfare Society (CWS).
About 40 such stations will be set up in the estate by the end of next month. Under the pilot scheme, only caregivers registered with CWS will be allowed to feed stray cats at the station, and any leftover food must be cleared within two hours. If not, the caregiver will be fined for littering.
"This is good news for residents, because the neighbourhood won't be dirty," said Ms Low, who is a registered caregiver. "It's good for the cats, too, because they won't get a stomachache from accidentally eating food that has been left outside for a long time."
Mr Cohen Ng, director of Mutts and Mittens Foundation, said: "The feeders are taught how to correctly feed (the cats), instead of just throwing food around."
Mr Shanmugam praised the animal-welfare groups, and called them a good example of civic society. CWS vice-president Veron Lau said the scheme will also be introduced under the Stray Cat Sterilisation Programme to estates in Tampines North, MacPherson and Ang Mo Kio.
The society had surveyed 2,523 households in Chong Pang on ways to manage the stray-cat population. About 80 per cent of the respondents preferred a more humane method – such as sterilisation, rather than culling – of controlling the population.
And about 85 per cent of the respondents were supportive of having stray cats remain in the estate after sterilisation. The Ministry of National Development (MND) is reviewing its policies on pet ownership and stray-animal management.
Housing Board (HDB) flat owners are currently not allowed to keep cats as pets in their units. An MND spokesman said the ministry has received a suggestion for a pilot scheme on cat ownership in HDB flats, but added that things are at the ideas stage, with "discussions still ongoing".
Social Media