Types of data
Primary: original, first hand data collected by myself
Secondary: data collected for research purpose, can be by self or others
Qualitative: data which cannot be quantified or measure eg. descriptions, five senses
Quantitative: data which can be quantified or measured eg. statistics, number, charts
Primary research
Photo record (sees):
Descriptions(feels / taste / smells):
Tried the prominent Turkish ice-cream. I ordered durian flavour which tasted pretty average for $6.80, and the smell of durian is too mild for my liking, but the process is fun! The maker will play tricks with you, and she's really fast. Quite embarrassing as passer-by pause to watch and tourist started taking pictures of me…
I think Singaporeans generally love Matcha-anything! Tried their single cone matcha flavour for $4.30, and I would say it is as delicious and authentic as any other matcha soft serve in Singapore like Maccha House and Sunday Folks. My favourite is still Tsujiri Tea House because they add interesting toppings such as rice ball and red bean.
This is so popular! Waited for almost an hour before I got seats for 3 and it was during non-peak/meal hours. Imagine the queue if we head there during dinner time. Like other Keisuke outlets they offer complementary hard-boiled eggs and seasoned bean sprout for starving customers like us to munch on before our food is ready, which is really thoughtful. The portion is huge and I could not finish mine. Cost me around $23 after GST and service charge, the highest among all the ramen outlets I have tried (which is a lot). I guess it was because of the ingredients that goes into the rich lobster broth. Was quite disappointed to find out their toppings consist of common ingredients such as egg, shoots, spring onion, pork slice, and nothing-lobster. Nonetheless, the meat ball was a interesting twist and it taste great!
I like Shuffle, especially the ambience. Not too rigid for a chill night, and definitely a rare pub which perform Chinese songs. I heard Jay and JJ Lin's songs mostly. Tried their truffle fries ($12), red velvet cake ($6.80) and Signature house drink, black currant something-i-cannot-remember. Honestly the food is average, probably because I have high expectation for truffle fries at $12, and the cake was clearly left overnight (or maybe more than one night idk) because it turned hard. The ambient light was too dark for my camera hence this picture is taken from the internet.
One of my favourite! I have to say, their truffle fries is by far the most delicious I've tried in Singapore because they fry it IN truffle oil instead of sprinkle on top, it tastes and smells divine, even though they're known for the shots instead. They offer interesting shots such as Milo, Blowjob, and other items on their menu. $1 shots also attracts a crowd of youngsters. I would like my OSS content to be alcohol-free, so I shall not post any pictures for that.
I use edited photos to deliver my thoughts and general feeling towards CQ. It is colourful, vibrant, and romantic. Offer beautiful sceneries at night. Filled with alcohol, cheap love, and activities to enrich Singaporean youngster's nightlife. Meanwhile, many activities are also available during the daytime such as museum and cafe hopping.
Sound (hears):
-Slow river flows
-Tourist boat honks every time they set sail
– Music from performance and clubs
-Human commotions
Here is the link to my survey:
https://www.surveymonkey.com/r/HSWLJ6Q
I gather many information from the survey and the interviews.
1)How frequent youngsters (age 18-25) visit CQ.
2)What are the top 4 activities they like to do there.
3)Their favourite F&B outlets.
4)They visit CQ during daytime or night time.
5)Specific reasons why they like/work at/stays at CQ.
6)Any change to CQ that they know of over the years.
7)Whether it will be noisy at night for the residents.
8)Have they heard of boat quay.
Secondary research
History:
Top 10 things to do at Clarke Quay:
1.Visit Singapore river
Center of trade since modern Singapore was founded in 1819
Used to be heavily polluted until government relocate cargo and trading services to Pasir Panjang
Clean up from 1977 to 1987
Central artery for the area's nightlife scene
Boat tours passing important landmarks such as Merlion, Esplanade, Anderson bridge, Marina bay
2.Asian civilisation Museum
Finest exhibitions showcasing Singapore's history
14000 m2 with 1300 artefacts
3.Fort Canning park
Trees, lush vegetation surrounded by gleaming modern offices and sprawling malls
4.Reverse bungy
Landmark of CQ
Illuminated at night
$45 for a ride
5.Lockdown
Real-life escape games
$20 per person / hr
6.Boat Quay
Area in between North Bridge Road and Anderson Bridge
7.Central Fire station and Civil Defence Heritage Gallery
Oldest fire station in Singapore
Colonial-style exterior
8.Art-2 Gallery Singapore
Host regular exhibitions showcasing paintings, installations
Offer consultancy service
9.Hong San See temple
116 years old
Buildings, courtyards, statues, accosted with Buddhism
Award of Excellence in the 2010 UNESCO Asia-Pacific Heritage Awards for Cultural Heritage
10.The Arts house screening room
75 seats
Daily screening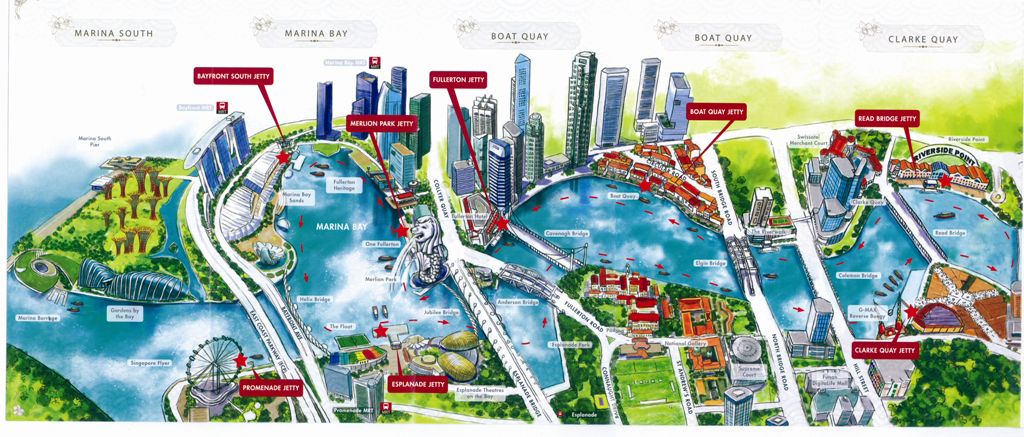 Difference between CQ and Boat Quay
1.Price at Boat Quay is slightly cheaper than CQ
2.Boat Quay has more restaurants and less clubs compared to CQ
3.Boat Quay is less loud and dynamic
4.Location and history
I was quite surprise to find out from my survey result that 100% of them actually knows about Boat Quay. Okay it is just me being ignorant, I've never heard of Boat Quay opps. I was surprise by the fact that residents and tourists who stay in nearby hotel reflected that the noise does not bother them at night.
Final outcome
Concept:
Black and white backdrop to highlight the day and night quality of CQ
Digital painting as medium, using vibrant colour schemes to portray a dynamic CQ
Single sheet infographic format allow me to link all the activities back to CQ as the location
Included both primary and secondary research
Pie charts / bar charts / numbers and percentages for quantitative datas
Images / icons / typography for qualitative datas
Digitally painted icons gallery:
I wanted to paint a portrait of him but unfortunately only manage to find b/w photos of him which is ominous to paint. Hence I looked at his statue for reference.
I took reference from the photo of a real cargo ship at CQ back during the days. The boxes are painfully difficult to paint.
I love the colour scheme of this shophouse. <3
Had fun tracing and painting all the ingredients in the lobster ramen. 😀 My favourite is the bamboo shoot because initially it just looks like a brown rectangle block without the details I added in later. I also love eating bamboo shoots, so must make it nice.
This took me whole day to paint. I love the outcome because I was kinda particular about the details, like numerous shophouses and railing along the river because all of these are important elements that help to portray the  complete image of CQ.
RESEAERCH & references
For research on Ethnography & Infographics:
Brian A hoey, A simple Introduction to the Practice of Ethnography and Guide to Ethnographic Fieldnotes, June 2014, retrieved from website
Insitu, What is Design Ethography, 2016, retrieved from website
karen O' Reilly, Key concepts in Ethnography, February 2018, retrieved from website
Unknown author, Why Infographics are Dominating the World, retrieved from website
Randy Krum, Cool Infographics Excerpt, retrieved from website
For research on the top activities in CQ:
http://www.singapore-guide.com/top10/top10-attractions-clarke-quay-and-riverside.htm
https://www.tripadvisor.com.sg/Attraction_Review-g294265-d324756-Reviews-Clarke_Quay-Singapore.html
For research on the history of CQ:
http://eresources.nlb.gov.sg/infopedia/articles/SIP_863_2004-12-16.html