Introduction
10.000 Moving Cities is an interactive installation by Marc Lee, a Swiss artist born in 1969 who creates network-oriented interactive art objects: interactive installations, media art, internet art, performance art, video art, augmented reality (AR) art and virtual reality (VR) art. He is experimenting with information and communication technologies and within his contemporary art practice, he reflects critically creative, cultural, social, economic and political aspects. Lee experiments using existing information provided by the internet to generate awareness and create an unique experience for his participants. Participants can select any place or city by using a digital interface. At the chosen place, the Internet is searched in real time for latest text, image, video and sound information. Four projectors and eight audio speakers project the results into the space. Visitors are able to walk through the model and experience the information in 3D.
Masks of the projections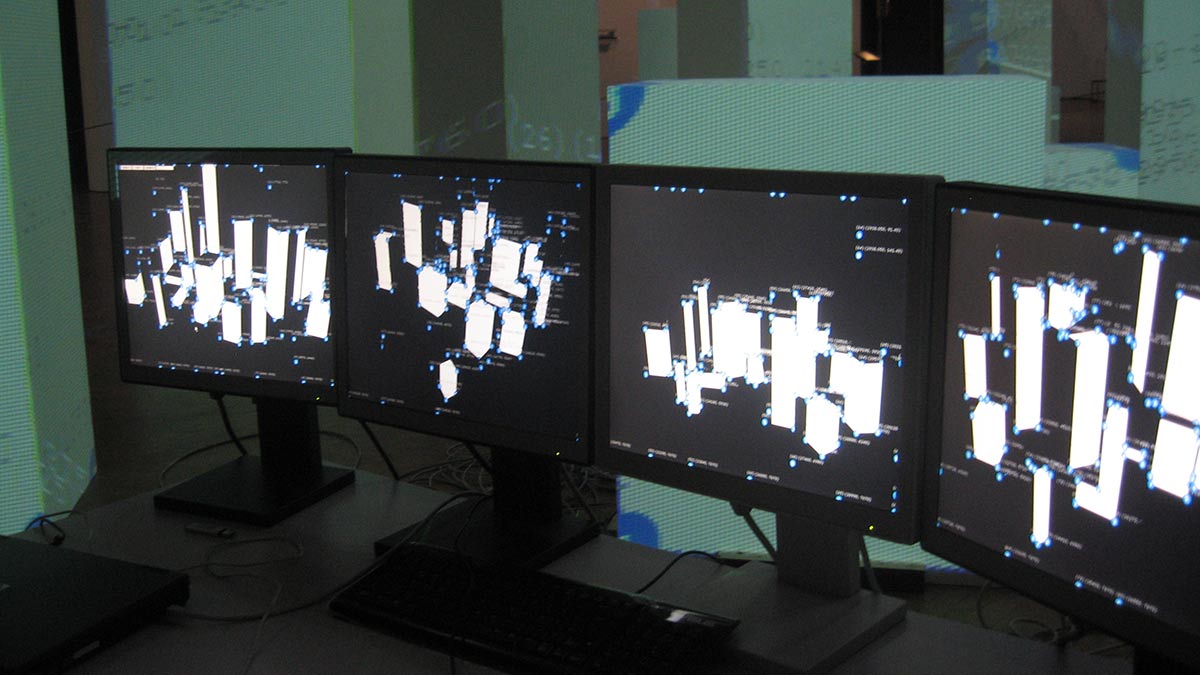 Interface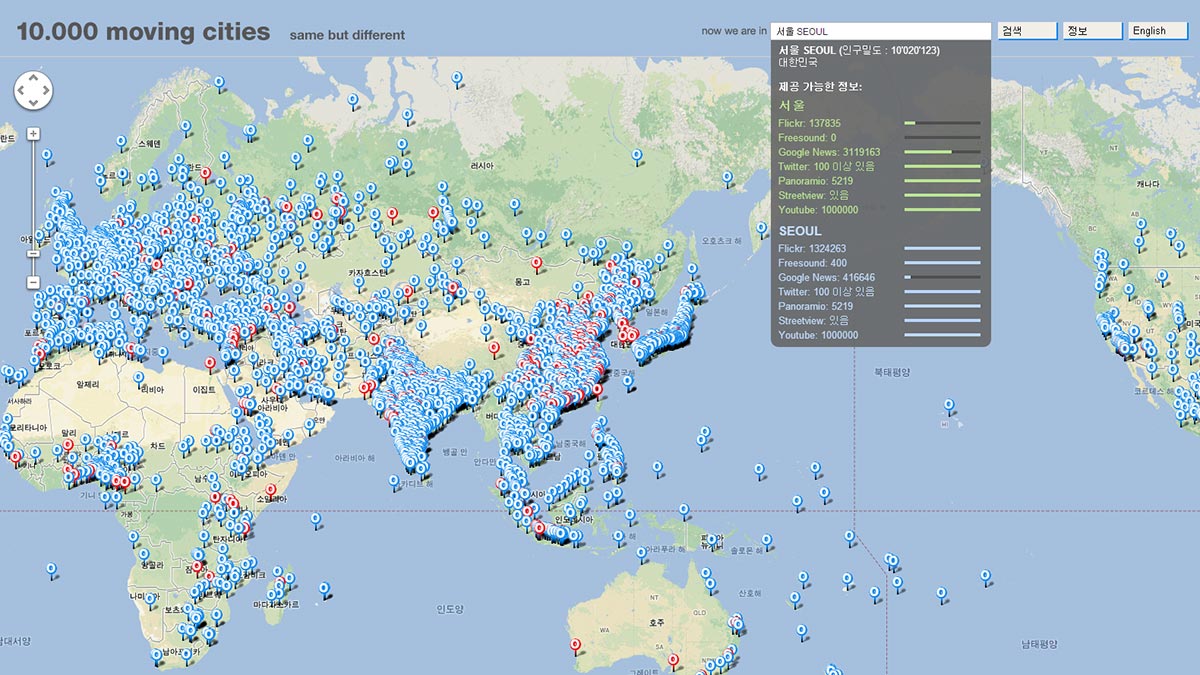 Exhibition
Experience
Images, sound, text and video will be displayed in the form of perceived fragmented cubes littered all over the exhibition area. The information and graphic representation constantly changes, providing updates on the location through ever-changing audio and visuals that are juxtaposed to form an identity of that area. Each new change of location always creates new representations of the real world as a combination of visitors and digital matrix. Marc Lee address "globalization" and how it creates 'local places without an identity' through the installation, dispelling it as he reveals the unique factor of each location, be it city or place, through an immersive interaction in which participants are able to capture the essence and beauty of each destination without being in the physical location. The user-generated content is not censored nor chosen by a certain community, creating a genuine and 'raw' experience of each location. No two participants would come out with the same experience, even if they'd visited the same locations, as the information is constantly updated and randomized.
In this digital age, the inter-connected world creates a society not defined by geographic location, it is rather hard to pin point what defines society in this day and age. Society has become a mash of cultures, religions and thinking where accessibility to information, whether objective or not, is readily available for everyone to process and dwell on. One could say that the consequence of having such a representation of culture and society, having participants immerse themselves in such a raw scenario and being plunged directly into the circumstances of the certain location can be overwhelming and create a form of realization of how fragile our world has become. Imagining the exhibition in the modern context could mean a great deal of exposure for those uneducated, or sheltered from the injustice and evil that has been occurring in the real world. The Hong Kong crisis, Chinese ban by the US, among many other issues may create discomfort for the participants who are unaware on the ongoing turmoils faced by countries, and have a very real impact on the location through either social media or news media.
This installation invites participants to appreciate and understand the diversity of the world through the sampling of various countries and locations. Lee uses globalization to showcase the beauty of being able to share information, otherwise impossible without it, to create a deeper appreciation and implant the seed in the participant of how important it is to stay true to our culture despite the burgeoning connection that grows tighter between the world as we progress. Lee uses this interaction as a critical commentary on globalization and society in our current age. It is up to the participant to form his/her own thoughts about the progress of our world.