Social Broadcasting = Social Media + Broadcasting

'In the moment' Realness
Television Programmes like 'Live' news and sports events that are broadcasted 'Live' on television, evoke a certain excitement and amusement in people. Proof of this lies in the collection of  hilarious memes and compilations of news anchor fails, immortalised in the Internet.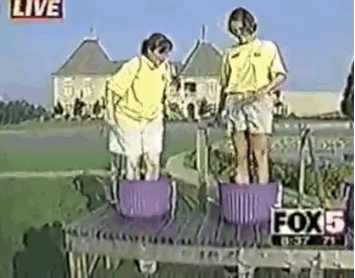 'LIVE' videos hold a certain authenticity due to it being real time and its similarity to real life. This 'in the moment' realness is a phenomenon that is enhanced in social broadcasting.
Reconstructed Identities
This might sound completely paradoxical but the reason why social broadcasting is such an interesting concept is that while there is a sense of authenticity in going 'Live', people still have the freedom to explore and reconstruct their identity and behaviour on the internet.
"Do you think you could act normally with this on? ever?"

"No, I don't think I could."

~Convo from Here Come the VideoFreex
The camera somehow tends to make people more self-conscious of their behaviour. People can also create their own personas online.
Third Space behaviour and collective narratives
As we have seen from the various artists that we studied, social broadcasting and using the third space is a powerful space to bring people together, the idea of "many to many" and super participation
We wanted to explore the aesthetics and sense of presence in a shared performance environment, where people don't leave their indigenous environments. That way people from varied creative and cultural backgrounds could help create a new environment in which they could collaborate on an international scale. ~ Kit & Sherrie on their telecollaborative art projects

---

Two crowds from different ends of America connected by satellite network
Adobe Connect Vs Facebook 'Live' Vs Written Collaboration
World's Longest Collaborative Sentence
The simplicity of words and characters in this work encourages super-participation in a surprisingly chaotic and unpredictable way.
The huge difference between broadcast TV and the Web is the keyboard. With that people can say anything; they have full expressive capacity. This means a more intense and personal link could occur between me and the audience. So why not get the whole world together to write a sentence?[1]
Adobe Connect was a good platform for an online class. It was a creative outlet for real time collective imagery and students were less self-conscious of their behaviour and actions on this platform much like the work "Hole In Space". This is because experience was more private and intimate than Facebook Live.
Facebook Live + OBS
CROSS STREAMING
Attempting to incorporate written interaction in our work
The final Cross-Streaming experience was the most complex and technical and took a lot of experimenting and exploring. Technical adjustments like latency, areas with internet connection and other details had to be considered. Ultimately there is much potential we have yet to explore for this method.