First Impression:
Device looks like a high tech Vape machine but way more useful (Depending on who you ask)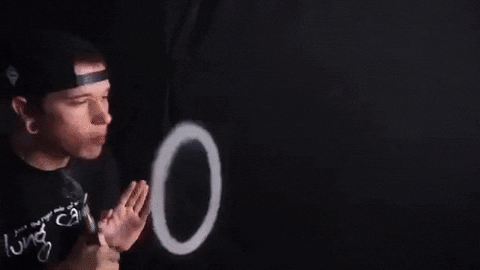 How it Works:
AIREAL Technology is a Disney Research that uses puffs of compressed air (looks like vape smoke rings) to allow users to feel the air as if there is a ball hitting their hand or a sensation of wind in your environment.
This bridges the gap between purely visual devices like kinect and motion tracking devices where people can see with their eyes but cannot feel what they see.
How Air Rings are generated:
Air vortex generators are made of five 2-inch speakers  (see whisper Subwoofer) to create a vibration of air which then accumulates at the 3D printed flexible nozzle as a ring shape and is then pushed through the nozzle.
Advantages:
The best things in life are free.
Since air is all around us, and this device creates effects out of free air, there is much potential in the sense that it uses existing resources and is more sustainable.
Unlike other products, whose air is too weak to travel long distances, this device has more controlled air movements and thus travel and last longer.
It enhances virtual experiences like games and possibly interactive installations since the device is scalable

Disadvantages:
It is not a product available in the market. From the video, it seemed that the puffs of air could not quite be seen in normal daylight settings. For kinect games, users still have to look at the screen to see what to hit but they are at least able to feel sensations in the air for better accuracy. Researchers are also aiming to create 3D shapes in the air. For instance, one that someone can hold out his hand and feel a face.
Similar Devices:
Vortx 4D environmental stimulator
Product uses a combination of heat and air, extract audio and visual feedback from game and produces heat and air to the user. Product has an air deflector to increase and decrease heat,  an air diffuser nozzle to produce air. There is also a knob to control the intensity of the air and heat. Gamers that used the product generally had a positive response to the product.