About (Theme & Context)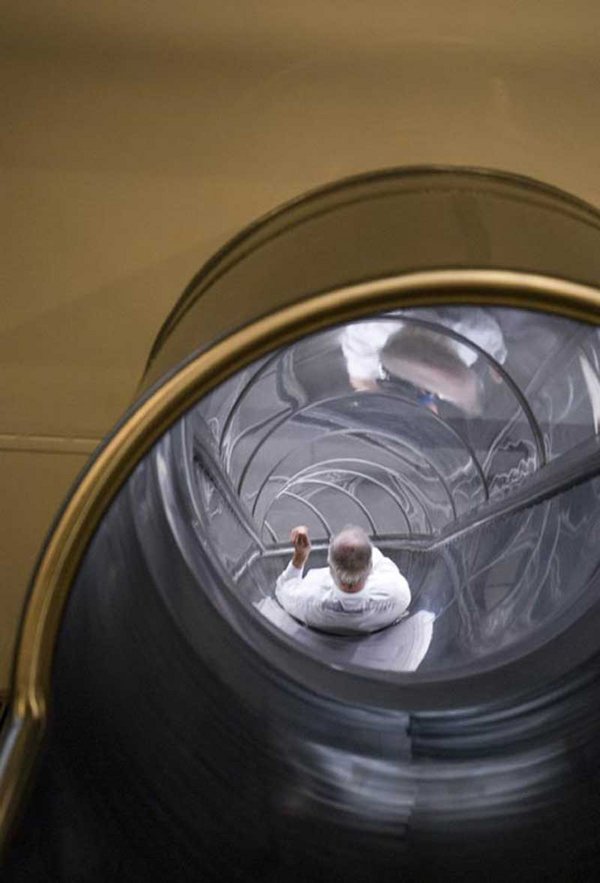 According to Höller, Test Site is an artwork that can be experienced both from the inside and outside. He chose slides because of how pragmatic they can be as forms of transportations – they are easy and inexpensive to build, energy efficient and allow users to get from one place to another really quickly. Yet at the same time, the feeling of sliding down inspires a feeling within the participant that hits somewhere between delirious and euphoric. The state of joy and panic that one is in when in the slide, is something that still reflects on their expressions even after reaching the end of the slide. Watching how much others are affected by it and the degree of  'change' they have felt while sliding down, is part of the experience as well.
Höller also stresses that ''is a misconception to think you're obliged to join in sliding', which means that users actually have a choice in whether or not they wish to participate. Once they chose to go down the slide, they lose that sense of control to the slide and to Höller. At the end, after moments of disorientation, they resume that sense of agency. 
Artist
Höller's summarises the experience of sliding as 'voluptuous panic upon an otherwise lucid mind'. His experiments tend to inspire users to question their relationship to the environment, each other, and themselves. He also enjoys creating artworks that inspire feelings that range from joy to unnerving. Most works of his are plays on familiar forms of perception and the environment, allowing the audience to become part of the art themselves.
About his work, he says "They offer the possibility of unique inner experiences that can be used for the exploration of the self."
My Reflection
What I enjoy about this project is the pure simplicity of it. Höller takes an item, or rather, an environment that we typically associate with childhood and the feeling of unadulterated joy of sliding, and questions his audience on why it is not being used in everyday life or beyond the age of 'being a kid'. It allows for people to experience an emotion they have not in a while, especially adults who are used to having a sense of agency with everything they do in life and freeing them of that sense for those few seconds. It is also nothing to overthink or deliberate about, which makes the experience even more concentrated on the actual experience of sliding.