This post is to explore modular structures found on architectures and installations.
"Cloud City" by Argentinian artist Tomás Saraceno is a futuristic modular structure  installed on the roof of the Metropolitan Museum of Art in New York City. The structure consists of 16 connected modules of stainless steel and acrylic. A constellation of large, interconnected modules constructed with transparent and reflective materials.
Antony Gormley, Chord, 2015 (above). Cellular stainless steel structure that comprises 33 polyhedrons that make up a vertical helical chain 905 stainless steel elements of varying section sizes and 541 stainless steel balls.
Karis Boutique by Suppose Design Office / Location: Higashi Hiroshima city / Photographs by Toshiyuki Yano

The concept of the store is space that is changing its view or atmosphere depending on where you are standing, such as caves or limestone caves. The purpose of the design is to offer a new shopping experience that people could see products through strolling in nature.The materials of the partitions are paper tubes that are strong and easy to work with, and moreover, they are using for tubes to roll up cloths. The tubes are layered randomly as to be uneven surfaces and create arch shapes as partition.
Tara Donovan
(using plastic cups to create modular structures)
In her site-specific installations, Tara Donovan assembles man-made materials into large sculptural constructions. The piece is comprised of over 500,000 drinking cups, methodically prepared in a formula of varying stacked heights, presenting the appearance of flowing water or a cloud formation as viewed from above.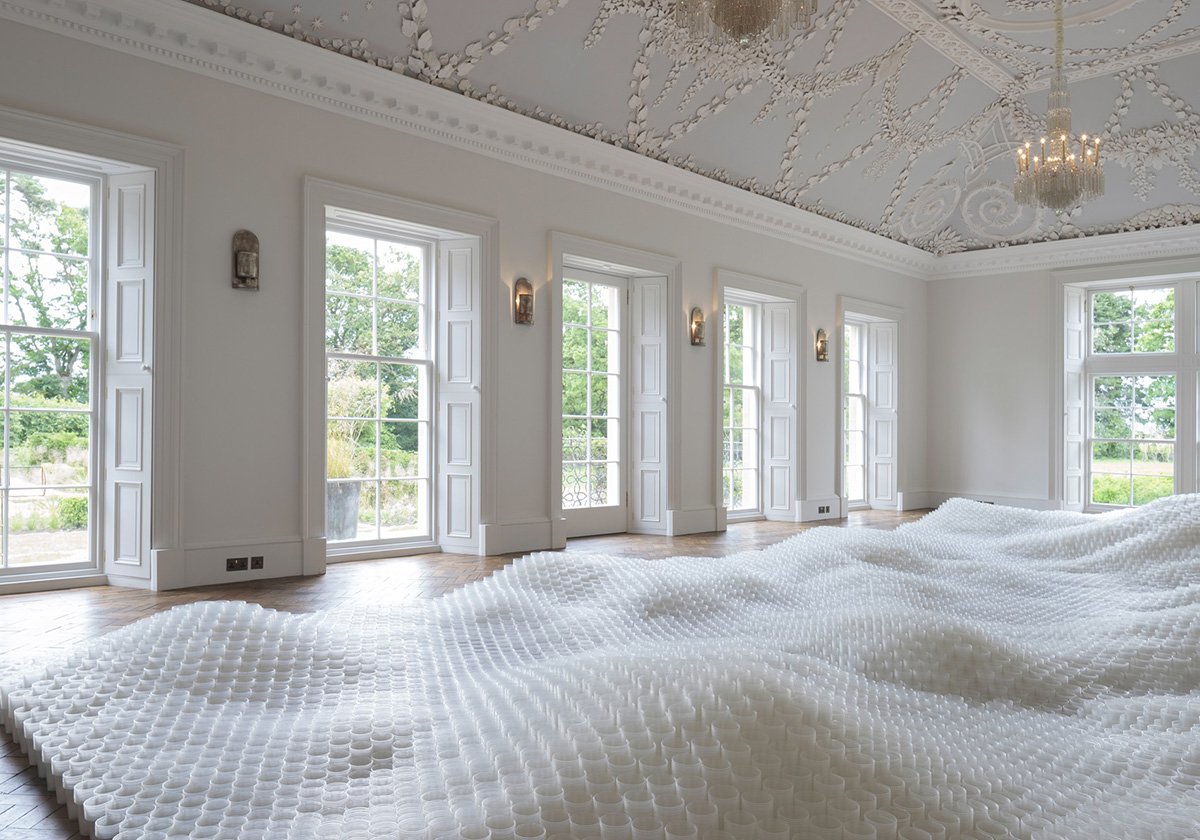 Another installation by Tara Donovan – using acrylic rods.(below image)
The illusion of soft and fluffy texture.
Her works includes rolls of adding machine paper piled on the floor, styrofoam cups suspended from the ceiling, and enough plastic drinking straws to cover a wall. Donovan revels the unrealized sculptural potential of pins, cups and plates.
Cheryl Pope, Up Against, 2010/2013  (above image)
Wooden fabric by German artist Elisa Strozyk. (above image)