Table of Contents
1. Title + Concept
Story and Intention / Motive
2. Artist References
Tracey Emin & Museum of Broken Relationship
Film Aesthetics
3. Execution
Location & Space
Lighting
Props
Footage
Sound
Smell
Concept:
It is a narrative based idea on:
Everything is a passing moment, what can we do to preserve those memories? Why do people obsess over the physical things that link them to a memory, in hopes to possess it?
Preservation of memories, memories of someone you hold dear, hold true to the heart.
Motive of this installation:
To allow people to delve further into the obsessive nature of someone who cannot let go of the past and struggles to hold onto memories that are fleeting.
Memories are fleeting moments, hence we understand the meaning of collecting objects so we can preserve and remember them.
Storyline:
It is a significant development from Naomi and Kai's assignment 2 where the male lead, Pierre Tan, left her.
Lead actress wants to tell –
The story of how it happened through the objects she obsessively collected from her ex during the relationship and what these objects mean to her.

To tell the story of their

1 month relationship

through these objects. The short time frame is used to highlight her obsessive behaviour.
A collection of 30 items as mementos to represent each day of the month
| | | |
| --- | --- | --- |
| Photographs of him sleeping | Fingerprints | Retainers |
| Sound Recordings | Used Scotch Tape | Used Underwear |
| Used toothpaste | Toothbrush | Dental Floss |
| Old clothes | Shades | Dried Contact Lens |
| Used condom | Towel | Nails |
| Protagonist's diary | Wax | Comb |
| A lock of hair | Water Bottles | Belts |
| Blanket | Shoes | Socks |
| Shaver | Post-it notes with msg | Ugly portrait of him |
| Deodorant | Forks and Spoon | Cup (In the film already) |
Artist Reference for Concept:
Tracy Emmy, Everyone I Have Ever Slept With (1963-1995)

Video: https://www.youtube.com/watch?hl=en-GB&v=15jVnBlt6e0&gl=SG
Emin creates an intimate space through the use of a tent and narrates her personal story through the visuals displayed. Photos, names and letters of the people she had slept with are stuck up on the interior of the tent.
INSPIRATION: We're using the idea of a limited space to reflect the protagonist's intimate thoughts and experience. Visuals do not stand alone but coexist with the footage, space and sound to depict the theme of our work, which in this case, the protagonist's obsession of her ex-lover.
Museum of Broken Relationships, Copenhagen, Denmark

Using objects that the audience can touch and feel and experience for themselves (e.g. reading a diary), it will be able to give clues and insights on the characteristics on the protagonist as well as the person she is obsessed about.
The amount of items as well as the nature of the items could also further accentuate the obsessive behaviour and mindset of the girl.
Artist Reference for Film Aesthetics:
Movie: See You Tomorrow (2016)
There was a scene in the movie where the main character reveals the collection of items he has collected and saved in the boot of his car that were from his relationship with his passed on ex-lover. He was unwilling to let go of the memories tied to this person despite it being many years since his lover passed on.
Amélie (2002)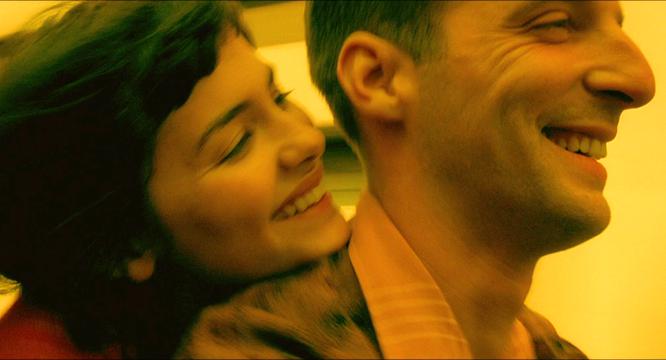 1:57:20 Towards the end of the movie, we the scene of Amelie and Nino riding on a bike captured in a sepia tone colour. The footage is also fast forward to create a sense of fleeting moment. Short snippets of Amelie's solo shot are cleverly interweaved as if to remind audience the story is about the Amélie.
Execution

Location
Dark room: To give an unsettling feel
Lighting


Red tint: To show desire




Projection of Footage: Footage will contain glitches to create sudden brightness in the environment. Also, the film that would be played to reveal the meaning of the 30 objects in the course of the relationship. This is used as a visual accompaniment to the installation.




Footage:

BLURRY & DREAM-LIKE STATE
To depict fleeting memories of their one-month relationship. It will be fast forward to create the sense of fleeting moment where details cannot be examined.
Props
30 objects to narrate the story of their one-month relationship. We will also experiment with mirrors with lipstick messages written all-over it and images of Pierre to depict what lead actress wanted to see everyday

Sound:




Replaying of sounds, music, recordings.




Eg. lullabies of the male lead singing for the girl

Smell:




Musky smell with a tint of cologne: To reinforce her obsessive behaviour of wanting to preserve his smell.




Diffuser labelled 'his smell.'
Shrine stored in a storage unit in the basement
Ideas for Room Execution