Video: https://www.facebook.com/wrongval/videos/10155150344678208/
'Oh man' I thought, when I found out we had to go 'live' again. And oh my, it's using some new unfamiliar software – how am I gonna wing this?! These are some honest thoughts I had when I first found out about going live, streaming our desktop misc-en-scene and being potential glitch artists.
However, it was helpful that I'm been an ardent fan of trippy gifs and glitch art content. I guess the experience was really helpful in taking it to the next level by creating this content 'live' and using the desktop as my canvas.
I wanted to give myself sometime to be familiar with it but a thought just came to my mind while setting my stage – to just go crazy and just go 'live'.
Hence, I just took it from there.
Art Direction
I've decided to always have something constantly moving in my misc-en-scene, as that's what draws people's focus and attention on, as compared to a static image pasted around my screen.
Hence, in my art direction I included gifs, and one of the main visual that set the stage was the constantly moving tunnel in the background. It was perfect as it acted as a smooth and cool transition into the videos I was playing.
When I'm on my laptop, I'm usually watching music videos of my favourite bands and CHVRCHES is one them, which I played during the stream.
I decided to put Jesus on my stage too.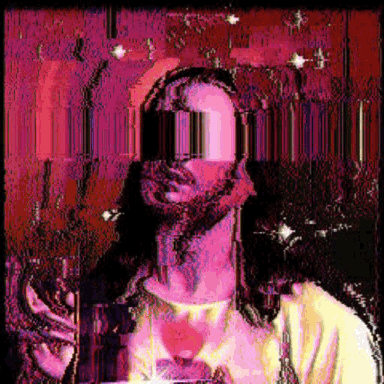 I was also trying to be playful and did this
That's me on top of Jesus' head. What do you deduce from it?
At the spur of the moment, I decided to look for Randall Packer on YouTube. And amazingly, the video aesthetics fit perfectly into the glitch art and retro trippy vibe I was going for.
It was an amusing experience watching everything unfold before my eyes in glitch! It was extra cool when your prof himself were feeling the same vibes about your creation too
Also thanks for the shoutout Randall!
Look ma, i'm tagged in the same post as Jon Cates! FAXXXXXINATING