IMPENETRABLE
Mona Hatoum
2009.
Black finished steel and fishing wire.
300 x 300 x 300 cm.
Collection of Yuz Foundation. © Mona Hatoum
An inviting piece at first glance, what seems to be a very dynamic cube sculpture changes shades of grey, black and white every time you take a step towards it. A few steps closer and you realize the sculpture is not one sculpture by itself, the 'rods' are not bound together and they dangle in the middle of nowhere. Once you are right in front of the sculpture, you are engulfed in the entirety of the cube, you realize each of the black rods are bejeweled with 'thorns' resembling stretched out barb wire. They dangle on a translucent array of fishing line, spaced out far enough to distinguish each rod from the next but yet not enough for you to step into the trap.
This is what Mona Hatoum does the best, she creates the most enticing, seductive sculptures that disguise as installations that you can roam in. Her main topics of her works are confrontational themes such as violence, oppression and voyeurism, often in reference to the human body. The visual conflict of her works arise from the seductive  juxtaposition of opposites such as beauty and horror, desire and repulsion. This idea can be simply seen by how the sculpture was so inviting for the audience when they would be meters away from it however, the audience would then be repelled as soon as they see what the black rods really are.
These ideas can be seen by her other works such as '
Homebound, 2000
' and '
Light at the End(2002)
' however, in a different manner.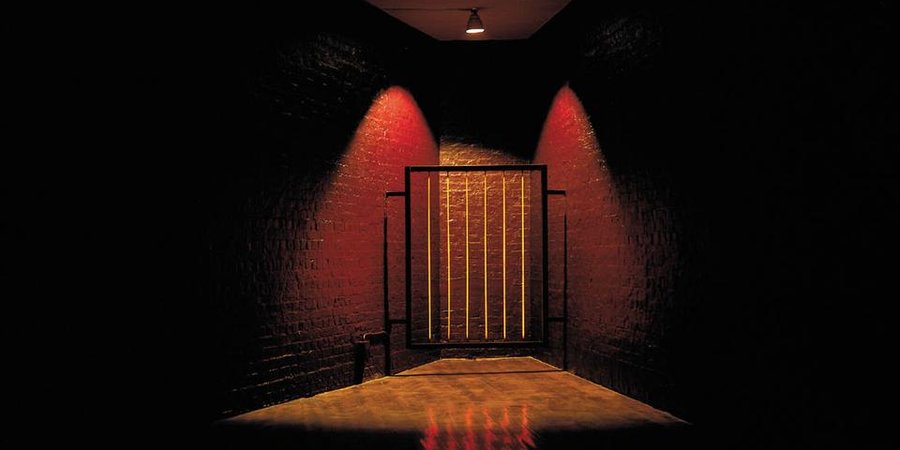 Both of which have a different kind of harmful element to it which is electricity. They once again invite you into the space of the artwork but they repel you once you are in the space of the art work. Such harmful elements that become very real and apparent in her work is so important because she wants the audience to actually fear her work, which is the awareness of the real harm in her daily life, and ours as well.
This is the link to our presentation! LINK HERE
Team members: Valerie, Jacelyn, Tisya, Jiaman.