First rule.
New Media refers to the means of mass communication using digital technologies which means "all new media objects can be described formally (mathematically)"; in the language of computers. So which part of the 'tree' is new media? At first glance, it is very much just a normal model of a tree, until someone approaches The only part of the 'tree' digitized is the automation – the code and the electrical components. Thought it is a piece of interactive art that uses digital technology, it does not classify under new media as a whole.
In the 'tree' project, we are transcoding psyche to give the illusion that the supposed 'inanimate' object is sentient. The sixth sense of presence is the "cultural layer" where as the "computer layer" is the Arduino and Processing code.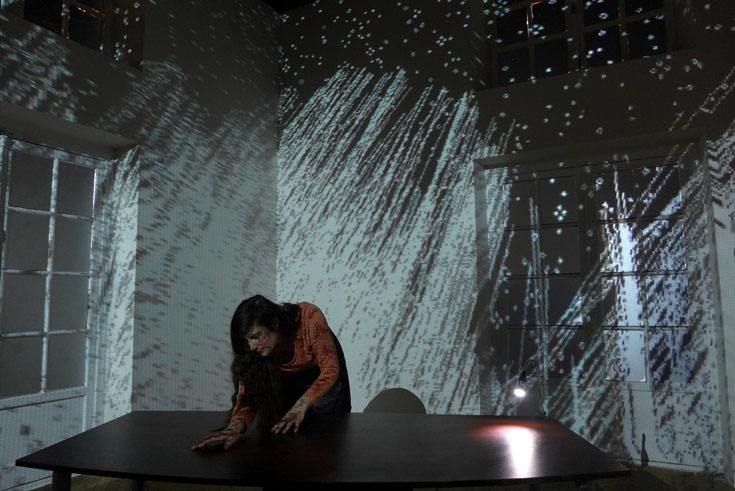 Manovich states that "Media used in cultural communication will have discrete levels." But he also states the opposite that it may not be applied to all kinds of cultural communication. Does body language have discrete units? Maybe not. But transcoded body language, has discrete units due to its "fractal structure". Just like how art and design are 2 separate categories – design is art but art is not design, New media and interactive art co-exist in a similar way. Discrete units do not have any meaningful connotations unless you are making glitch art.
Discrete units of the computer code are purely technical and are meaningless yet it enhances the semantics of the artwork. Bridging the disconnection between audience and display. Because…
Second rule.
"A new media object is subject to algorithmic manipulations. in other words, media becomes programmable." This type of programming leds to 2 closely related principles – automation and variability.
As the 'tree' is not a self-learning program, it is a "low-level" automation; "in which the computer user modifies or creates from scratch a media object using templates or simple algorithms." Its feedback is pre-programmed and will not change.
Another way of identifying a "low-level" automation from a "high-level" one is that, the variability of a "low-level" automation is dependent on the user while the variability of a "high-level" automation is solely determined by the program itself.
"Computer characters can display intelligence and skills only because programs place severe limits on our possible interactions with them. Put differently, computers can pretend to be intelligent only by tricking us into using a very small part of who we are when we communicate with the."
The 'tree' is also a special case of a "low-level" automation pretending to be a "high-level" one. As it is not an artificial intelligence (AI) program but it seems to understand meaning; as mentioned above in transcoding.
Lastly, the modularity of new media allows for easy editing. Manovich described to be building blocks of code, stating that "The objects themselves can be combined into even larger objects – without losing their independence." The 'tree' comes in 2 parts – Branch and roots, which can be be removed and still function on their own. Removing the discrete units however, would ruin the entire system.
Reference: