FORM & VISUALISATION // DN1011 // PROJECT 2B – THINKING THROUGH MAKING
Part 1 – Designing Through Details
I selected the verbs: SLIDE and CRADLE, to express in four composite expressions/sculptures.
Prototypes:
Final Four:
Slide #1
Slide #2
Cradle #1
Cradle #2
Part 2 – Vessel to be Held, Worn or Carried
Creating a 25 x 25 cm base frame for the weave with 8 mm diameter beech rods.
  Weaving a simple basket weave with White Malacca cane strips from Malaysia.
Adding four 25 x 20 cm woven panels that create a hinge by running through every alternate space on the base 25 cm beech rod.
Experimenting with different weaving styles to incorporate the wider, flat bamboo canes with the White Malacca.
Slider test: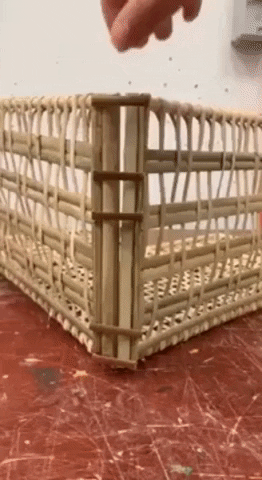 Adding fabric lining: I used Drill which is a durable fabric and is ideal for outdoor use.
Hidden stitch to incorporate the Drill seamlessly:
Final:
Technical Drawings:
Orthographic:
Isometric:
2-point perspective: