Final assignment with Debbie and Wilson
An installation space uses various mediums and techniques used to convey messages/stories. We decided to narrow down into two main directions:
Immersive Experience – exploration of certain natural environment through large moving image projection and sound, rather abstract.
Narrative Stories – filming from a person's point of view / pick an interesting group of people to document / stringing our personal stories with a theme (eg. family)
---
Here are our top 3 ideas:
Critic on Fukushima disaster | Whether the construction of nuclear power plant is viable in populated cities. (Chosen idea)
Appropriation video – gathering news report/documentary/commentary footages of the Fukushima disaster in Japan, its aftermath (particularly the affected residents), and the worsening situation 5 years on.

Immersive experience – a room simulating an abandoned home, residents' belongings lying around haphazardly

As the video plays on loop, the audience can walk around the room and visit the families' belongings, who were forced to vacate their homes immediately after the nuclear disaster. Household items will be scattered around the room, emulating the chaotic mess that were left behind.

Image of a newspaper projected on the walls, showing a scene with empty streets, simulating an abandoned town, families forcibly removed (something like the gif below)
Proposed setting:
Research and References
A group of artists risked their life to enter the radiation contaminated neighbourhood to set up their installation in abandoned homes.
http://www.hongkiat.com/blog/cinemagraph/
Examples of cinemagraph and how these animated images work to be more powerful than the original still images.
http://www.projectcensored.org/5-fukushima-nuclear-disaster-deepens/
An organisation that is funded by the public, to post news that is not on mainstream media. This article was one of the key findings that prompted us to carry out our finalised idea. Although the credibility is questionable, the issue raised was not impossible, but in fact highly probable. The worsening of the nuclear problem was something that could affect the public badly, and could even escalate to be a worldwide issue. The fact that the situation and news at the Fukushima is being less and less reported and slowly forgotten and neglected is worrying. Thus, we decided to tap on this finding to highlight the concern.
Connected | Revealing personal stories of people living in a community 
Many of us live in public housing. Hundreds of families are living closely in the same block, but everyone has their own unique story to tell.

Construct a HDB building model.

Sound recording of each household's everyday life (radio playing, couple quarrelling, family watching tv etc.) can be heard as they light up individually.
Research and References
Taken from art science museum trip
Use of light and reflections create dramatic atmosphere, inviting audiences to immerse in another dimension.
Immersive experience | Invoking fear and phobias
Environments that make you feel uncomfortable – drowning, falling off from staircase, losing yourself in the human crowd etc.
Multiple projections of the same environment across the room
Sound effects from the environmental settings (water, human talking and walking)
Could be enclosed space to confine only one audience to experience at a time.
Research and References
Taken from art science museum trip
Klunk Garden (http://www.gelitin.net/projects/klunk_garden/)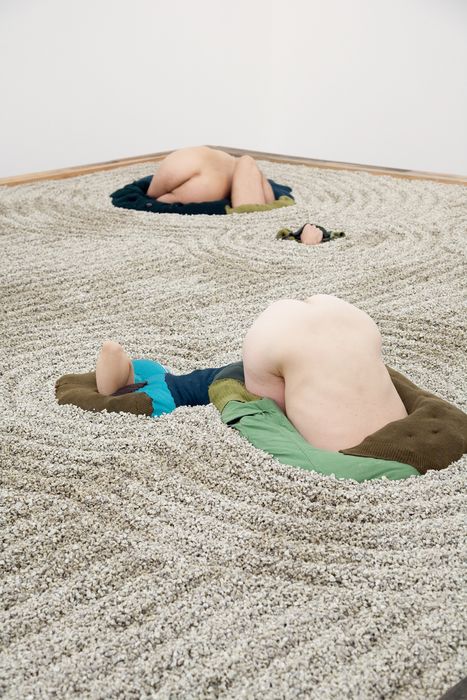 Bizarre installation (sense of discomfort) – Zen rock garden with various human parts coming out of it.
The Vandenberg – life below the surface (http://thesinkingworld.com/vandenberg/)
Austrian photographer Andreas Franke transformed old sunken ship into an underwater art gallery.