♣
Project 1 – Research
3D Typography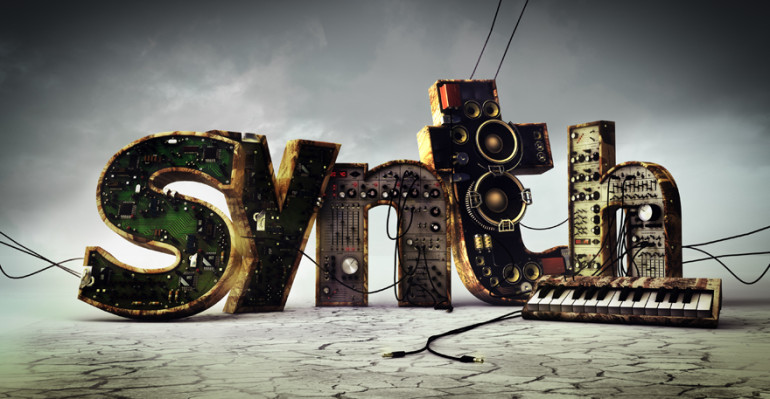 http://citycoasttiling.com.au/synth-creative-3d-typography/
Personally, I think 'Synth' is a really good example to guide us what we are supposed to do for this project: find out the main visual elements-deconstruct them-identify the essential elements-apply the elements onto the typeface.
Initially, I was thinking about to create 3D style typography by using C4D for this project. However, there are a number of 3D works in my portfolio. At the beginning of a new year, it's also a time to start learning new things and creating something different. So I decided to use Illustrator to create all the four pieces of my work.
Handmade Typography
This piece of handmade typography has been produced out of old boxes and a footstool – a simple and fun way to produce a stunning piece of work!

Maricor Maricar – http://maricormaricar.com/
2D Illustration Typography
This is the style that I'm gonna experiment in this project so that I could add something new into my portfolio. ♣ 
Project 1 – Process
In this project, we have to create typography based on our names and dream jobs.
My name is YR/YAN/RAN/然
and
I am a ballet dancer/chef/carpenter/scientist/photographer/filmmaker/jungle explorer/3D animator/apparel designer…
I found some reference images of visual elements that related to my listed jobs and sketched out my ideas.
After consultation, I finalised my 4 future jobs to work on.
Ballet Dancer
Scientist
Jungle Explorer
Photographer
1- Ballet Dancer
Image from: https://www.gettyimages.com/photos/ballet-studio?mediatype=photography&phrase=ballet%20studio&sort=mostpopular
Elements: ballet shoes/ribbon/ballet skirt/tutu/ballet studio/barre
I decided to represent this job by using ribbons of ballet shoes and using pastel colours to show the 'GRACE' of ballet.
And one of the difficulties for me was trying to figure out where to add shadows and highlights to make the texture of the ribbon more realistic.
In the end, I decided to add white tutu for the background instead of using the normal ballet skirt, as white tutu is one of the unique elements of a ballet dancer. And I also tried to adjust the size of the letters and tweak a bit with the perspective in Photoshop. Here comes the final work.
2- Scientist
Elements: laboratory/labware(test tube/beaker)/microscope/chemical formula
I chose test tubes as the visual representation of this job. For colours, I decided to use the secondary colours orange and green for the chemical reagent inside. As I tried to use orange to represent the passion of the scientist about their work, although sometimes it might be dangerous. And the green colour is associated with regeneration, ecosystem, knowledge and sustainability…
Except adding shadows,  I also tried to create a negative space in the centre area of the background to make the test tubes stand out. And I filled the background with light turquoise which is a kind of colour that associated with laboratory.
3-Jungle Explorer
Elements: map/compass/knife/rope/magnifier/binocular/tropical plants
I chose compass as the visual representation of this job as it is one of the essential equipments of an explorer. I did research online for different types of the compass and I chose the one with wooden texture as my reference in the end. As brownish colour is related to the natural elements, such as the tree trunk and soil. Then I put tropical plants as the background to signify 'Jungle' and added another layer filled with yellow colour behind to show the hot weather condition.
4-Photographer
Elements: camera body/lens/camera flash/film strip/tripod
For this occupation, I used camera and tripod to form the letter. Initially, I just arranged all the three letters in a horizontal line. My friends suggested me to tilt the letters and adjust them into different sizes to make the whole composition more interesting. And after that, I added film strips to the background and adjusted their sizes and opacities to create a sense of movement.
Reflection
One of the biggest takeaway from this project is started creating my work by using Illustrator. Thanks to my friends and Graphic Form project 1, now I could probably add a point to my Illustrator skills. In addition, asking friends for feedback is definitely helpful and necessary.