ONE
Forced Marriages
Unlike arranged marriages, forced marriages are marriages without the consent of either or both parties. It occurs for reasons of preserving wealth or family reputation. As old-fashioned as it sounds, it is unfortunately still a part of various cultures around the world despite it being illegal in many countries. 
http://www.bbc.co.uk/ethics/forcedmarriage/motives_1.shtml
https://www.bbc.co.uk/bbcthree/article/772ba2fc-2f1a-4db6-95fd-a58c0f0aca39
Ocean Habitat Loss
Habitat loss causes the displacement of many creatures and living beings in this case, in the ocean. Unfortunately, most of the time, ocean habitat losses are caused by the doings of human beings such as urbanisation, pollution and so on. Not only does it directly affect the organisms in the ocean, it in turn threatens those whose jobs rely heavily on life in the ocean such as the fishermen.
https://www.nationalgeographic.com/environment/oceans/critical-issues-marine-habitat-destruction/
https://www.worldwildlife.org/habitats/ocean-habitat
Food Wastage
Food wastage is a global issue that is caused by poor economic behaviour or stock management as it occurs not only past consumption but also during production and retail. With negative impacts towards the environment, for Singapore, NEA has been working to combat the issue in many means.
https://www.straitstimes.com/singapore/nea-launches-year-long-battle-against-food-wastage
https://www.nea.gov.sg/our-services/waste-management/3r-programmes-and-resources/food-waste-management
Child Sexual Abuse
Child sexual abuse is unfortunately a taboo issue that most parents feel uncomfortable discussing about. In turn, they fail to properly educate their children about it causing the children to lack awareness on it. According to UK-based child sexual abuse awareness organisation Stop It Now!, "if an adult engages in any kind of sexual behaviour with a child to meet the adult's sexual needs, it is sexual abuse." This is my topic of biggest interest.
https://www.stopitnow.org/ohc-content/defining-child-sexual-abuse
TWO
Having child sexual abuse deemed as a taboo topic, it continuously happens in secret as parents and children themselves lack awareness towards the issue. As a result, there is no safe space in the family to talk about the occurrence of such abuse. Children continue to suffer in silence. 
More often than not, the perpetrators are family members according to a report on child sexual abuse by World Health Organisation where they found that "incest/intrafamilial abuse accounts for about one third of all child sexual abuse cases".
Such abuse has dire consequences on both their physical and mental health as elaborated in the video below.
Children may suffer from chronic pelvic pain or for girls, menstrual irregularities. It can cause low self-esteem, among many other mental disorders. 
Again, due to the lack of awareness towards the issue, following the abuse, the guardian may not provide follow-up care which causes the child to fall into a deeper state of health deterioration which is being carried forward to their adulthood. Their lives become a vicious spiral downwards which is why I think awareness towards this issue holds extremely high importance. I would like to create means that become catalysts for parents and children to discuss such an unspoken issue.
Resource: https://www.who.int/violence_injury_prevention/resources/publications/en/guidelines_chap7.pdf
THREE
My main target audience would be parents/guardians and their young children. I believe that both parties should be fully aware of the issue of child sexual abuse to promote safe discussions about boundaries and respect within the family itself. Apart from that, I feel like the awareness of this topic would also be beneficial towards people working around children i.e; teachers, caretakers etc. 
As for parents/guardians, they need to be educated on the risks, causes and effects of child sexual abuse to uptake preventive measures. Following that, they can then educate other parents as well as their children. My design materials hope to enable such conversations in the most simplest and comfortable manner possible.
FOUR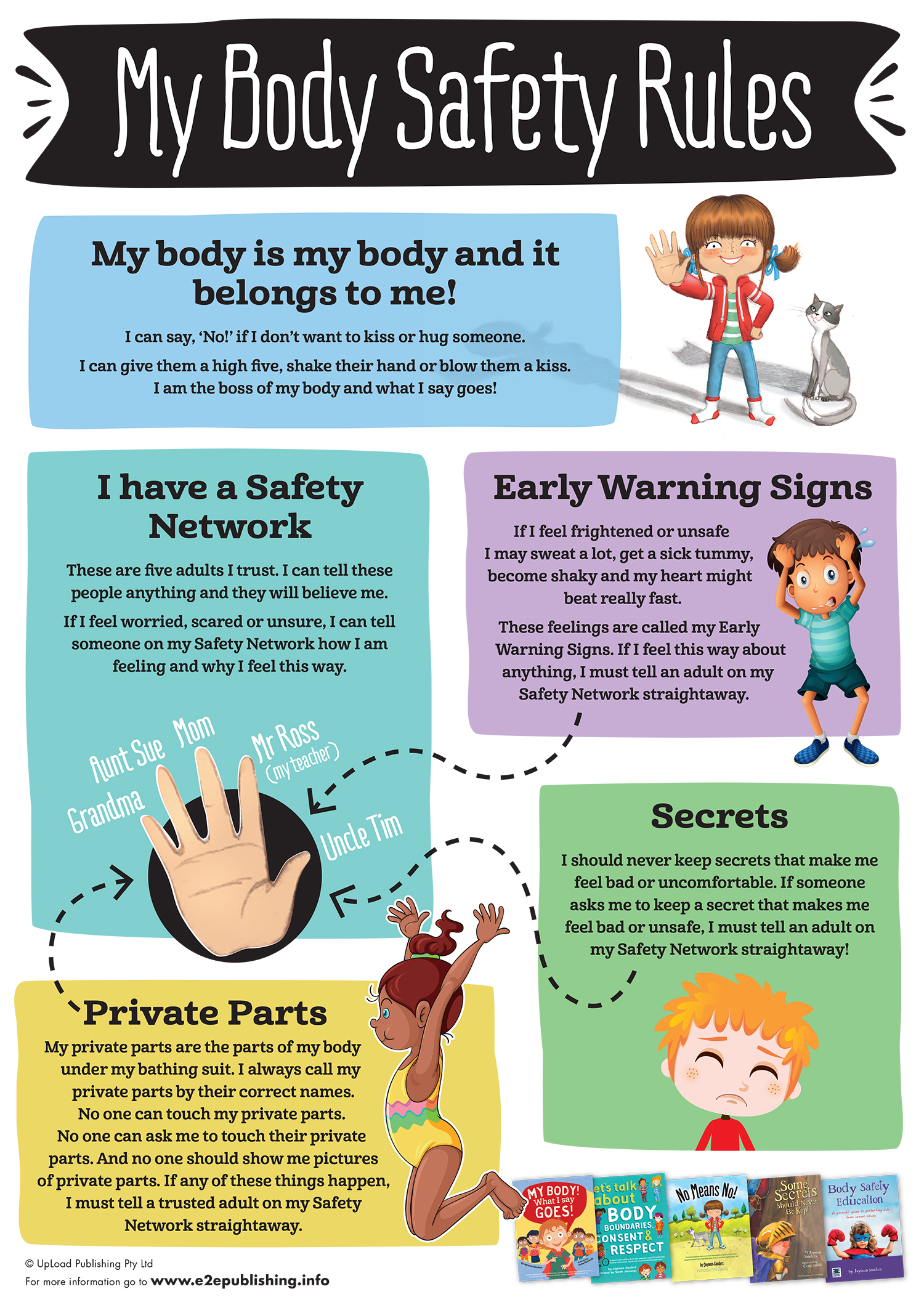 EDUCATE2EMPOWER Publishing, Print, 2012 (https://e2epublishing.info/posters/)
The poster uses a variety of colours which is often eye-catching to young children. However, the colours altogether are quite contrasting and in my opinion, does not look united. However, overall, the whole poster looks coherent as the artist linked the different concise and clear information using bits of illustration which are very relevant to the topic. It helps children understand better through imagery.
NSPCC, Animation, 2017 (https://youtu.be/UbtSJCw_lqw)
Every scene of the animation clearly represents the bit of information being presented at that point. They have fantastic and coherent use of colours in each scene. For example, the red swirls around the body of the child clearly indicates that there is a problem as the colour red often represents danger. The animation of an interactive book is very innovative and creative and it keeps the story being told very organised and thus easy to understand.
Kimberly King and Sue Rama, Book, 2008 (https://books.google.com.sg/books/about/I_Said_No.html?id=84aVPAAACAAJ&source=kp_book_description&redir_esc=y)
I appreciate the use of the red flag in the illustrations in the book whenever they are talking about things the children should look out for which keeps the message and lesson clear. The very child-like and handwritten-looking is fun and fresh which I believe would attract the younger audience. The illustration provided on each page are very simple and straightforward in bringing forth the information.