One of my classmates used thermochromic ink for her interactive project before, so I have seen the magic happened before and it was cool to try on my own!
We first began by mixing a clear base with a thermochromic powder (colour of your choice) together. (Careful not to inhale too much of the powder)
We tried transferring the mixture using two techniques: silkscreen and block printing.
Silkscreen
Layer some of the mixture at the bottom or the top of the silkscreen.
Using a squeegee, evenly drag the mixture in 1 swift direction. If need to, go over a couple of times to make sure everything has been covered by the mixture.
Remove the silkscreen and voila.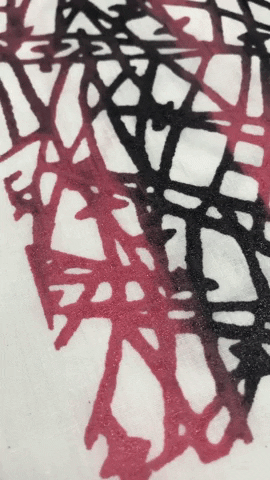 Thoughts?
I placed too little mixture on the silkscreen, so halfway through my striped pattern design, it ran out of mixture to coat the rest of the design. This was primarily because there wasn't much mixture left. So I salvaged some mixture that was left on the silkscreen by the others and created a gradient effect for the other half which actually came out pretty neat!
Block Printing
In my first attempt, I was the first person to use the mixture and the block. I wanted to try the yellow mixture. However, I didn't think that the colour of the block could fuse into the mixture, so my print turned out more green than yellow.
From my observation of Mus and Minjee's prints, Minjee and I took more time to press the block down as compared to Mus. However, Mus's print came out more yellow, so I guess less time would allow less colour of the block from running down.
Also, the print came out quite watery for the yellow print, but you don't see the same for the black one.
So thats all I have for this week!