YAY So we have finally completed our FINAL assignment for 2D Foundation WOOHOO~
So lets get on with this extremely long and detailed post~
---
ME
Representation of Me: Tofu + Baby Elephant
Instead of using photographs of myself to represent myself, I decided to use my spirit animal as a representation of myself: A baby elephant.
Why a BABY elephant?
Because I often wish that I didn't have to grow up so fast, and like a kid I am rather gullible & childish.
Why a baby ELEPHANT?
Because an elephant is a gentle giant ( I am rather big), they never forget(I bear grudges), they are playful and friendly but not to be trifled with ( my emotions are easily riled).
I was also intrigued to explore Anthropomorphism as well. Hence, I wanted to use Tofu as my subject as well. The texture of my elephant I have decided to go with is different types of Tofu as my friend once told me that I am like Tofu, soft and fragile and I ought to toughen up to be like Tau Pok.
Hence, in each row, the toughness of each elephant in each square will show the progression of how I , from a fragile watery Tau Huay transform into a tougher Tau Pok. Vice Versa.
---
Methodology
For the methodology for the representation of myself, I was very inspired by the cartoons I have watched in the past and recently.
Hence, I decided to carrying out my emotions and state into the form of hand-drawn elephant cartoon drawings, which then I scan my drawings into the computer, and then overlaying the texture of tofu over my drawings for the elephant's skin on Photoshop.
This further emphasized on the meaning of my spirit animal is also soft and fragile like Tofu. Thus, giving a new definition to my spirit animal.
I decided to split the 4 rows into 2 where the first two will be on my concept of Dystopia and the other two will be my ideal concept of Utopia.
A constant method of carrying this project out is on Surrealism, as I was having lots of fun for project 2 and I would like to incorporate photo manipulation and montages again. 🙂
1) Utopia 1:
Me: Me when I am stressed.
Setting: Lured by Temptation
Black used in the background and doodled TV to show the dull and mundane life I am in. Juxtaposed by the burst of white light behind the TV, it acts as a metaphorical representation of the TV being a portal to send me to another dimension ( color wheel ) where there is colour, vibrance and excitement. Outstretched hand (Korean drama actor Song Joong Ki's hand) from the center of the colour wheel invites and lures me into his world. *fangirl snigger*
Outcome: Living vicariously through fiction.
My concept for this composition is a themepark because I love thrilling rides and I lose track of time there. Similarly, in the land of fiction, I lose track of time and reality when I watch TV dramas.
I used Square complementary Harmony color wheel in this composition where I used : Violet, Orange, Blue and Green. Violet/ purple gives off a dream like atmosphere, Blue is calming, orange gives a youthful and warm feeling and Green is refreshing.
---
 For this row, I was rather inspired by an image I saw online once which I felt it was highly relatable.
Everyone is a genius. But if you judge a fish by its ability to climb a tree, it will live its whole life believing that it is stupid.
2) Dystopia 1
Me: Me when I am carefree
Setting:  Societal Expectations.
I used
cool colors
for this composition that has similar tones. Scene takes place in a classroom setting in my perspective. Blackboard serves as the center of focus to create line of perspective, further emphasized by grids on the floor, which says, "Flying Lesson 101".
This is to show that sometimes in society and education, we are often taught things that we don't need or does not apply to us individually, or it simply is not cut out for us. And no matter how hard we push ourselves to learn, we remember the theory but we cannot apply it.
Outcome: Inferiority complex.
Outcome is a representation of Exam day.
I used monochrome harmony
( Blue)
and split complementary (
Blue
with
Orange
) in this composition. I used blue as the background as I wanted to express the coldness and cruel side of society (building in the background), as well as inferiority I experienced when my peers do extremely well but I don't. It is as though, when I am not doing well in certain subjects as compared to others, I am deemed as incompetent, inadequate and less intelligent by society…
The bright orange juxtaposed against the dark blue background is to show how much my peers shine through their abilities, where I am blended into the background, questioning my abilities. I attempted to create a diagonal implied line from the bottom left corner to the top right hand corner, to convey the instability I felt.
---
3) Utopia 2
Me: Me when I have Anxiety
Setting: My Safe Haven
My Safe Haven is depicted in an outdoor scenario where ELEPHANTS SHOULD BE ROAMING AND NOT LOCKED IN CAGES NOR ENCLOSURES *ahem* where there is plenty of room to roam. I used rain, as Elephants love the rain; I represented the sun with a fried egg (Because I like too eat eggs) and the vegetation at the bottom to be a Soya Bean field as Tofu is made from Soya Beans, and metaphorically, I am where I am born. Hence, my safe haven is places where I find most joy and comfort as a child.
I used a
Analogous Warm Colors
for this composition where
Green
,
Red
,
Orange
and
Yellow
are present.
Outcome: Recuperation.
In this composition, the Elephant is seen in the ground with a Soya Bean and a rice grain on it's side. This is a representation of me talking my problems out with my loved ones, and in this scenario, the Soya Bean is a representation of my family and friends (What made me 'Me'.) and Rice is also the basic element which makes my comfort food: Carbohydrates. My elephant's texture is Tau Huay again as I wanted to show that in front of my loved ones, I am allowed to breakdown and show my weak and fragile side 🙂 The Farmer Boots, Watering Can and Sunlight are what will help me grow up as a Soya Bean to be a stronger and happier person…I mean tofu.
I used
Analogous Warm Colors
and
Earth tones
for this composition.
---
4)Dystopia 2
Me: Me when I am Happy
Setting: Whirlpool of negativity
I depicted this composition by a hand grabbing the Elephant and attempting to throw her in the black hole made by the black and white whirlpool.
My highs and lows are rather unpredictable. I get triggered by comments and actions really easily as I am hypersensitive- *sighs* I am a Scorpio…excuses – and in an instant I get so caught up in chains of thoughts or reasons, I enter my abyss of fear and swirling thoughts, which eventually lead me to a state of melancholy.
Used
Monochrome Harmony
for this composition.
Outcome: Abyss of fear and melancholy
In my state of fear and melancholy, I am consumed by my own thoughts, things people say and self-loathe. I'll think about past events and I get really scared of my consuming thoughts which swirls around me like vultures waiting to feed on my corpse.
Flying eyeballs with mouth-Conscious of things people say and the way they look at me.
Lizards with Math equations on them – Constant reminder of greatest fear in Math. I hate lizards.
Frankenstein Snowman – Things people compare parts of my body to.
Used
Monochrome Harmony
and
Split Complementary
( Yellow rays from Window)
The texture of my elephant from a tough Tao Pok to Tau Gua to a watery fragile Tao Huay is evident here.
---
Artist References
A lot of my inspirations come from the cartoons I binged watched as a kid and the cartoons I watch now with my younger cousin on cable TV as a form of bonding session!
Best thing about being an Art student is that I can get away with watching cartoons for research purpose MUAHAHA.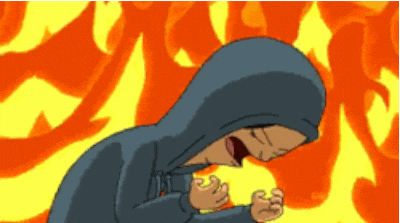 I pay quite a lot of attention to the details in the animations which I drew my inspirations from:
I really liked how they used color of the background has similar tones and roughly from the same hue. And the main characters are usually much more saturated and has brighter hues to draw our attention to them. The juxtaposition of the one-hue background to the more vibrant and colorful main characters really gives the main characters that POP of color.
The AMAZING WORLD OF GUMBALL
&
My inspiration for Anthropomorphism comes from these 2 cartoons.
I liked how in The Amazing World of Gumball, the character's personality are related for the medium they are made from. For instance, Teri (the paper bear beside Tina the T-rex) is made out of paper, she is very fragile, and physically weak. It is revealed that if Teri stands in the light, you can see "inside of her."
And in Pickle and Peanut , I like how the main characters are the only ones made from 'Real Objects' whereas the rests are drawings.
---
Problems Faced
Use of colors
The colors aspect was bugging me quite a bit. The placement of colors on certain areas of my compositions and the saturation, tone and the Hex color code made it hard for me to decide as there were so many colors to choose from. But then again I was intrigued by the types of color harmony I can use to further illustrate and emphasize on my intention and emotion in each composition.
Ideas
I was rather concerned regarding using Color Harmony as the main key point as my head was really congested with ideas on how to pull off the photo montages, methodology, ideology and which elephant to use for which setting etc.
Images
Finding the right high resolution images for my photo montages and photo manipulation was rather difficult. For instance, it was not easy to find a high resolution image for tofu. 🙁
Lovely Classmates':
THANK YOU GUYS FOR THE LOVELY COMMENTS <3
Miss Joy's ( I can't remember word for word but I got the gist):
– Can tell that I tried to apply my Principles of design such as implied lines and use of perspective.
– Joy suggested that for my 'Societal Expectation' composition, doing a sketch of a bunny hopping off a cliff to show the act of learning to fly would be better as compared to writing the text 'Flying Lesson 101' as the texts are rather jarring when seen as a whole during presentation of my 12 compositions, as it was the only composition with text on it. 🙂
---
Have pretty mixed feelings when lesson ended today 🙁 I had lots of fun working on the assignments, and odd to say but critique day is my favorite part of the assignment XD, but I cant help but feel a tinge of sadness when in sem 2 our class may split up and we may not get Joy as our instructor again even if we try to grab our timetable slots on STAR
war
S… sigh. But regardless I am very glad to get to know my classmates more as individuals through 2D projects ;') It is my utmost pleasure guys~ Thank you for the memories <3